A local business owner wants to apologize in advance for the expected gridlock on Route 1 on Saturday, April 16; the traffic will be as controlled as possible, she said, but more importantly, it's for a good cause.
The event is the Second Annual Spring Massive Barn Market, sponsored by the Chadds Ford Historical Society and Brandywine View Antiques. It will be held from 9 to 4 at the society's Barn Visitors Center at 1736 Creek Rd.
"I'm ready to rock and roll," exclaimed Lisa Vonderstruck, owner of Brandywine View Antiques. "I've already heard from about 5,000 people. Everyone is so excited about this. It's going to be wonderful."
Vonderstruck said more than 100 vendors will feature wares ranging from antiques and collectibles to vintage and artisan goods. The debut event served as a test run last year, she said, adding that the 2016 version revs into a higher gear.
In addition to twice as many vendors, the number of food trucks has also increased and will include purveyors such as the Meat House, Mushrooms Café, and Punk'd Pineapple Ice Cream. Vonderstruck recommends making sure you bring ID in case you opt to try one of the newest offerings: an alcoholic Popsicle.
Weather permitting, an antique car show will enhance the festive atmosphere, which will be enlivened further by the music of Campbell and Silver. And just for more fun, a vintage camper will be on display.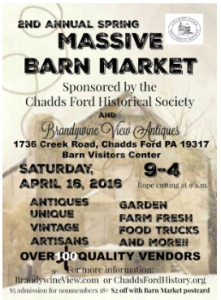 Because antiques and history go together so well, Vonderstruck said the partnership with the historical society is a natural. All proceeds from the $5 donation at the gate will benefit the society's education programs. "We love helping to save history," she added.
Other changes this year will include more free parking spaces and better signage, including some electronic signs on Route 1. Most vendors plan to accept credit cards, and they will pack extra inventory so that they don't sell out early, as happened previously.
"

Everybody has been working so hard to put this incredible event on the map," Vonderstruck said, praising a host of volunteers from the Boy Scouts, who will assist with parking, to the society members who are performing myriad organizational functions.
Vonderstruck said she's heard from a few people that they plan to arrive at the crack of dawn, but it won't give them first crack at the merchandise. 
"The vendors cannot even buy and sell off of each other until the rope is cut, promptly at 9 a.m.," she said.
But early birds will get a benefit: A food truck will be open for breakfast.
See Contributors Page http://chaddsfordlive.com/writers/
Comments
comments