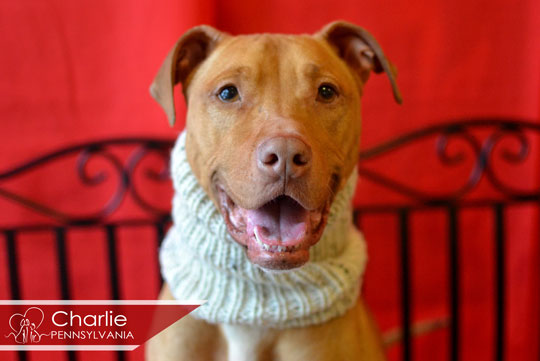 Come meet all the wonderful animals available now for adoption at the Brandywine Valley SPCA. All featured pets are "Name Your Price" adoption fee until Monday, April 11. Not ready to adopt? Then sponsor a pet and provide a safe place for our companions to rest until they find their forever homes. Help us give them a second chance at a fresh start. 
Charlie
If you look up the word sweet in the dictionary, my adorable picture will be right beside it.  Hi, my name is Charlie and I am a beautiful, cheery pup that arrived at the BVSPCA during the cold month of January. The staff here at the shelter provided me with shelter, food, and most of all love. I'm a happy go lucky girl who loves to play and I listen wonderfully. I walk very well on a leash and am good with kids. Come on down to the shelter and let me show off my tricks for you- we could end up being the perfect match.
Calvin 
My name is Calvin, and I am looking for an active family that loves to be outdoors. My hobbies include playing games outdoors, fetch, going on hikes and adventures that call out to me. My pals here say I'm a really playful, sweet and one heck of an athlete. I would be an excellent running partner and wing man.I also listen really well, considered to be a super smart canine and have my commands down packed. I love to please my people and revel in the attention and love I receive. Please come down to see me soon. I am ready to start this celebration we call life with you right now.
Click HERE to learn about all of our dogs at our Pennsylvania Campus.
Jazz
Hi everyone, my name is Jazz. I love the outdoors and cuddling up with my human friends. My pals here think my name should be Bear, because I kind of look like a little bear cub. When I first arrived to the shelter I was really scared and nervous, but everyone at the BVSPCA has accepted me with open arms and made me feel a lot more comfortable. I would still like a home of my own home though and would absolutely love to be a part of a loving family. The ideal family for me would have to be an active one that loves the outdoors, walk, trails, hiking and play ole goof ball family. I'm also a certified good listener and will tilt me both ways to ensure my human companion knows I am listening. Oddly enough I found that people think that's really cute. I am also a fabulous leash walker. I will walk by your side and won't pull. I tend to pride myself on good behavior because I'm just a quick learner. Did I already mention that I enjoy snuggling, because I really do. Anyway before I get too wrapped up in my daydream you should come visit me, I know I can make my way into your hearts just like I did with my pals here.
Click HERE to learn about all of our dogs at our Delaware Campus.
Bertha 
My Name is Bertha. I am pretty much a kitty model and am so photogenic if I do say so myself. I enjoy playing kitty games, but find that my all-time favorite activity to do is take some catnaps and sun bathe until the cows come home. My pals here describe me as being a really lovable, silly and cuddly young lady, what can I say cuddling goes hand in hand with my naps. I have been told that I have really bright beautiful green and gold colored eyes and cool tabby markings, which bring out all my awesome feline features. Come meet me in person, I would love to meet you and finally have a place to call home.
Click HERE to learn about all of our cats at our Delaware Campus
Chillma
Chillma here, yes I know my name is cool and totally inspired by my personality. I am described as being a total couch potato, who loves to sleep in a soft bed. Chilling is my life's ambition or lack thereof. Don't worry, I do still have energy to give and cuddles to share once we are on more familiar grounds. I am considered to be quite independent and will seek you out when I'm ready for some head scratches. I can be a little particular about other felines, but it's only because I was raised to be selective about the company I keep. If I sound like the kind of girl you need in your life, stop by the shelter and ask for Chillma.
Teddy
Hi folks, my name is Teddy. I'm a 5-year-old domestic short haired black and white stud, if I do say so myself. I came in as a stray and have slowly begun to adjust to my new surroundings. I am very shy and quite like ninja. I tend to be a little on the independent side, but will totally come get some loving when the time is right. Trust is a big thing for me and I know you can relate to that. Won't you come by the shelter and ask for me? Who knows we may just end up living a life of bliss together.
Click HERE to learn about all of our cats at our Pennsylvania Campus
See Contributors Page http://chaddsfordlive.com/writers/
Comments
comments