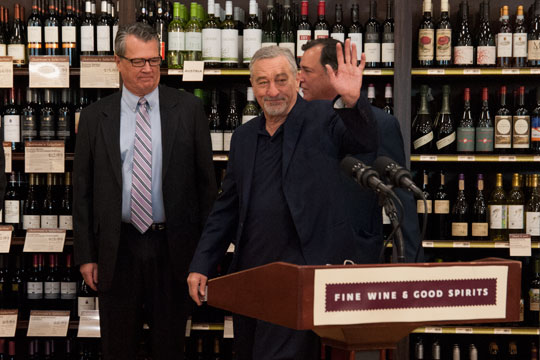 There was no fanfare when the new Fine Wine & Good Spirits store opened in Chadds Ford on Feb. 29. But there were fans galore on Friday, March 4, when award-winning actor Robert De Niro came to cut the ribbon for the store's official grand opening.
De Niro came in as part of a promotion for VDKA 6100, a new brand of vodka for which De Niro helped with package design, branding and promotion. In addition, 15 of 300 fans had a chance to get a brief meet-and-greet with the star.
While the event was scheduled for 4 p.m., some fans began showing up before 11 a.m., standing outside in a waiting area. At 3:15 p.m., all 300 were each given a sealed envelope before entering the store. They then had to wait until the ribbon was cut before opening the envelopes. The lucky 15 each had a gold card in their envelopes, which gave them a chance to meet the actor and have pictures taken; they also got a certificate for a De Niro-signed bottle of VDKA 6100.
Among the lucky ones was June De Pasquale of Birmingham Township.
"I'm on such a high and I can't wait until I get my pictures," she said after her meeting. "They took the pictures, but a guy next to me told me to give my cell phone and he took five pictures. I'm so excited."
She said she only found out about the event from a friend earlier in the week and said to herself, "Oh my god, I'm going."
Matt Whitehead, of Garnet Valley, was also a lucky local. He got the actor to autograph a baseball for him.
De Niro made no comment to the crowd during the ribbon-cutting ceremony.
Concord Township supervisors Ken O'Donoghue, Gail Ryan and Libby Salvucci were among the huge crowd that packed the store, but no Chadds Ford Township officials were on hand.
The liquor store replaces the one that had been in the Concordville Towne Center. The new store on Route 202, on the Chadds Ford side of the Wegmans development, is larger than the old one. There are 13,000 square feet of space, with more than double the amount of retail space.
The focal point of the new store is a large center table where customers can get questions answered and pick up informational material such as a party-planning guide and a food-pairing outline.

Rich Schwartzman has been reporting on events in the greater Chadds Ford area since September 2001 when he became the founding editor of The Chadds Ford Post. In April 2009 he became managing editor of ChaddsFordLive. He is also an award-winning photographer.
Comments
comments