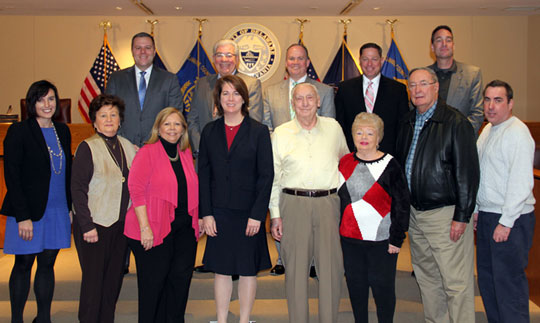 Chester and Delaware County Commissioners have recognized March as Women's History Month.
In Chester County, members of the Your Vote is Your Voice! Empowered Women Vote coalition, who represent social service agencies, faith-based, civic and social organizations, accepted the proclamation. The coalition is encouraging the approximately 9,000 women in Chester County who are not currently registered to vote, to register in time for this year's local, state and federal elections.
Cheryl Miles, a partner in the Your Vote is Your Voice campaign and program director for Bridge of Hope Lancaster and Chester Counties, reported to the commissioners that Your Vote is Your Voice members are training people to register women to vote. The organization is reaching out to child care centers, public housing residents, food cupboard participants, houses of worship, universities, senior centers and shopping centers to encourage and help women with the voter registration progress.
The Commissioners' proclamation noted the many achievements attained by women over the past few centuries in every aspect of American life. Also, the proclamation pointed out that millions of women worked and sacrificed to gain the right to vote in 1920 after a 70-year battle.
The proclamation states: "During Women's History Month, a coalition of stakeholders, under the umbrella of Your Vote is Your Voice! Empowered Women Vote, is implementing a non-partisan countywide campaign to increase voter registration in line with the dream of the millions of American women who first exercised their right to vote on election day in 1920.
"The Board of Commissioners, County of Chester, Commonwealth of Pennsylvania hereby proclaims its support for Women's History Month throughout March 2016, and calls upon all Chester County women to honor the struggle by suffragettes to gain the right to vote, by registering and voting in the 2016 elections."
Delaware County Council also recognized March as Women's History Month with the theme: "Working to Form a More Perfect Union: Honoring Women in Public Service and Government." A resolution was presented to members of the Delaware County Women's Commission.
(Top photo: Delaware County Council recognized the 2016 honorees of the Delaware County Women's Commission in advance of their March 16 awards breakfast. Shown at the March 2 Council meeting are, from left, Kelly Colvin, chair of the Women's Commission, Women of Achievement honorees Josephine "Gigi" Laird and Carol Miller, Council Vice Chair Colleen Morrone, and family members of Hall of Fame inductee Margaret "Mickey" Murdoch including husband Harry, daughter Eileen and her husband, Jim, grandson Michael and, back row, Council members Mike Culp, Chairman Mario J. Civera Jr., John McBlain, Dave White and Jim Maloney.)

See Contributors Page https://chaddsfordlive.com/writers/
Comments
comments