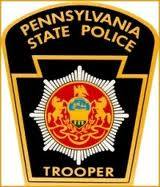 • New Garden Township police were able to thwart a suicide attempt on Feb. 23. A report said the department received a call to check on the person who, police were told, had been exhibiting "unusual behavior," showing signs of depression and then stopped responding to phone calls. Police eventually found the victim in a vehicle, trying to commit suicide by carbon monoxide asphyxiation. Officers were able to remove the victim and render aid. Police advise people to trust their instincts when confronted with similar circumstances and contact police. For people who are under stress, contact a friend, family member, medical professional or member of the clergy. The phone number for Chester County Crisis Intervention is 610-280-3270.
• State police are investigating a case of retail theft that took place at the Victoria's Secret store in Concord Township. A report said three suspects were involved and that they fled in a white SUV with New Jersey registration. The theft took place shortly after 6 p.m. on Feb. 23.
• A Wilmington woman reportedly had her wallet stolen while at the Big Fish Grill in Concord Township on Jan. 31. Police said the victim discovered $1,732 in unauthorized charges from the Concordville Target on her credit card.
• Police said Gregory P. Swoyer, 63, of Downingtown, failed to yield the right of way prior to a two-vehicle crash in Pennsbury Township on Feb. 25. According to the police report, Swoyer was stopped at a stop sign at Constitution Drive and Route 1, and then moved into the intersection to turn left onto the southbound lanes of Route 1. However, the report said he failed to yield the right of way and was struck by an oncoming northbound vehicle. No injuries were reported.
• Two drivers were cited following an accident on Cossart Road in Pennsbury on Jan. 28. Police said Samantha A. Stutzman, 23, of New Castle was driving east on Cossart near Stockford Road while Omar Anzurez-Tejada, 38, of Wilmington was driving west on Coassart. Stutzman drove into the middle of the roadway while negotiating a left hand curve, the report said. Stutzman was cited for driving in the wrong lane and Anzurez-Tejada was cited for not being licensed, the report said. No injuries were reported. A second report said Troy Tomczak, 22, of New Castle, a passenger in Stutzman's vehicle, was arrested after police said they found him to be in possession of marijuana.
• Thomas R. Snyder, 41, of Kennett Square, was cited for failing to stop at a red light following a Feb. 5 accident on Route 1 at Brinton Lake Road, according to a report from Pennsylvania State Police. The report said Snyder was driving south in the middle lane on Route 1 when another vehicle, having a green arrow, attempted a left hand turn onto Brinton Lake. Snyder didn't stop and struck the other vehicle, police said. The occupants of the other vehicle, the 73-year-old driver and a 9-year-old, suffered minor injuries according to the report.
• Police said David J. Whitton, 42, of Quarryville, was cited for following too closely after he rear-ended another vehicle on southbound Route 202 at south of Johnson Farm Lane on Feb. 3. A report said the other vehicle was struck as it slowed to turn right into a parking lot.
• State police cited Wan Y Saiia, 32, of Chadds Ford, after she lost control of her car and crashed into the rear of a tow truck on Evergreen Place at Hillman Drive. The accident happened at 7:56 a.m. on Feb. 10.
• A 36-year-old, reportedly from Chadds Ford, was arrested for DUI in Concord Township on Feb. 20. A police report said Joseph Thomas Batog was stopped for a traffic violation at 10:33 p.m. on Route 491 at Route 202, but was determined to be DUI.
• West Chester resident Aryn Lyn Gilligan, 21, was arrested for DUI and drug possession after a traffic stop on Route 202 at Dilworthtown Road, a police report said.  The traffic stop was made at 2:37 a.m. on Feb. 21.
• An Exton man was transported to Paoli Hospital following a Feb. 23 single-vehicle accident in Pocopson Township. State police said David D. Wilson, 33, was driving south on Wawaset Road when he tried to negotiate a curve to the left, but went off the east side of the roadway, traveled about 50 feet through a grassy area before striking a fence. The car came to rest in a ditch. The report said Wilson was cited for driving at an unsafe speed.
• Someone stole a package of horse joint supplement from the porch of a 56-year-old in Kennett Township. The incident happened sometime between 11:05 a.m. on Feb. 5 and midnight on Feb. 11, according to the report. Any with information should phone 610-268-2022.
• Unknown suspects forced their way into shed at AF Thomas Auto in Kennett Township in late January. State police did not mention anything stolen, but classify the forced entry as a burglary. The incident took place sometime between 8 p.m. on Jan. 26 and 7 p.m. on Jan. 28.
• On Sunday, Feb. 28, at 6:59 p.m., Kennett Square Police responded to the Rite Aid at 120 S. Mill Rd. for the report of a robbery. Two white males entered the store wearing dark-colored, hooded sweatshirts, with the hoods pulled up tightly over their faces, and dark pants; one of the subjects was armed with a knife. They approached the employees and demanded money from the register. The suspects then fled on foot, running west on West Cypress Street, police said. Anyone with information is asked to contact the Kennett Square Police Department at 610-444-0501 or 610-268-3171.
See Contributors Page http://chaddsfordlive.com/writers/
Comments
comments