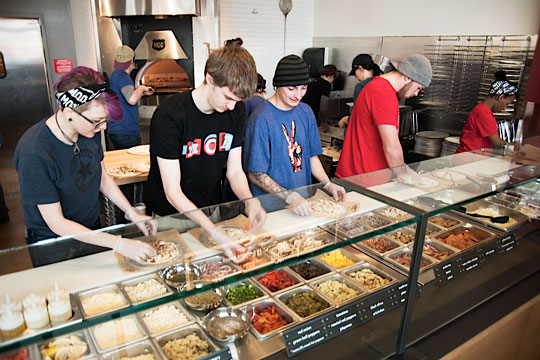 Cable TV has video on demand, and the Chadds Ford area now has pizza on demand, courtesy of MOD Pizza. The pizzeria is the newest shop to open on the Chadds Ford side of the Wegmans development along Route 202.
MOD stands for "made on demand," said General Manager Richard Ciszak shortly before the first customers were ushered in for the Feb. 19 grand opening.
What sets MOD Pizza apart from other pizzerias, he said, is that MOD doesn't charge for toppings; they're included in the price of the pie.
"We want you to be full when you leave, but at a decent price," he said. "Every ingredient in free. The only thing you pay for [in a pizza] is the size of your crust."
MOD sells only thin crust pies and there are only two sizes, the mini and the mega. Minis are 6-inch pies selling for $4.87, and the megas, at $10.87, are 11 inches. They don't sell by the slice.
Those prices hold whether it's a simple cheese pie or one loaded with everything.
Ciszak also called the service "super fast."
"From the time you start the line until you get your pizza should only take about seven minutes," he said, adding the mini pies only take about three to four minutes to cook, about the same time as it would take for a slice of pizza to heat up.
While there are only two sizes of pizza, MOD also sells pizza salads, garlic strips, cinnamon strips, and drinks, including shakes, floats and fountain drinks.
MOD Pizza doesn't deliver, but Ciszak said they do take telephone and Internet orders. The phone number is 484-785-8145; the web address is here.
It also has its own online music channel here.
The restaurant is open 10:30 a.m. to 9 p.m. Sunday through Thursday, but is open until 10 p.m. on Friday and Saturday. There is seating for 95 people.
MOD Pizza is a Seattle, Wash.-based company that began operations in 2008. Ciszak said the Chadds Ford store is the 102nd or 103rd store in the chain.
Other new shops in the same strip are a dentist's office, a liquor store (opening Feb. 29), Franklin Mint Federal Credit Union, Sally Beauty and Zoe's Kitchen.
(Top photo: The crew at MOD Pizza works assembly line style to prepare pies.)

Rich Schwartzman has been reporting on events in the greater Chadds Ford area since September 2001 when he became the founding editor of The Chadds Ford Post. In April 2009 he became managing editor of ChaddsFordLive. He is also an award-winning photographer.
Comments
comments