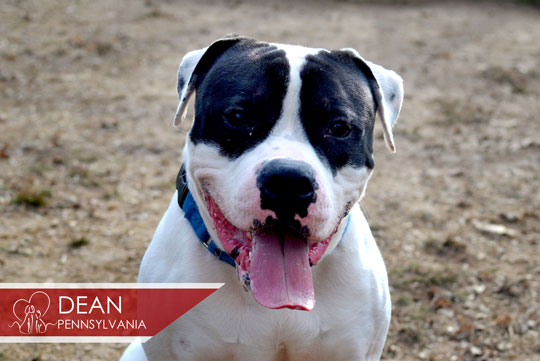 Come meet all the wonderful animals available now for adoption at the Chester County SPCA. All featured pets are "Name Your Price" adoption fee until Monday Jan. 18 or sponsor a pet and provide a safe place for our companions to rest until they find their forever homes. Help us give them a second chance at a fresh start.
Dean
I'm as cool as a rebel without a cause, but a fun loving goofball who's incredibly playful and easy to be around. I'm working towards getting along with other furry friends and have a soft spot for the smaller dogs that I meet. I'm well mannered and can walk and heel on command. I can be pretty exuberant but I'll always listen when asked. Come by CCSPCA and ask about me and we can both be the cool kids on the block.
Bonnie
I'm a black and white 3-year-old terrier that's proof that big things always come in small packages. I'm a ball of energy, so I love to play from sunrise to sunset. If you're an active person, I'm also big on keeping my family healthy by going on daily walks or runs through the park. I'm also a great listener and know several commands. You'll always find me cuddled up under your arm for some popcorn and a movie! Come by CCSPCA and ask about me!
Turner
I'm a 3-year-old terrier but even though I can't see you, it doesn't stop me from being super friendly and loving every moment with you. In fact, I love twice as hard. I made my way to the shelter as a stray and have enjoyed being around people and other furry pals. On the up side, my ears and nose work at heightened levels and that makes me feel like Superdog. I'm always reassured and calmed by a happy voice when I'm around people. I love long walks and sniff everything around me to get a better understanding of my environment. Come down to CCSPCA and ask about me.
Click HERE to learn about all of our dogs at our Pennsylvania Campus in Chester County.
Rudy
I'm an old soul with a heart gold, going on 16 years young. In a way, you can say that I earned my stripes. I was surrendered a few months ago and now I'm looking for a second chance to be the center of attention. I've been told that I'm a pretty awesome companion, meaning that I will constantly follow you around because your lap is the best place for me to sit. I'm a big softy and I'll always want to be apart of your daily activities. Once again, I'm a cat and wherever I fit, I sit. Come visit CCSPCA and ask about me.
Mr. Wilson
They call me Mr. Wilson. I wish I was that bold but truth be told I'm a pretty shy and timid cat. I made my way to the shelter as a stray and pretty much kept to myself, but I'm starting to open up. I'm on a special diet that prevents crystals from forming in my urinary tract. I love to lie on your lap and receive belly rubs; however, if they're good belly rubs I may just fall asleep right there.
Click HERE to learn about all of our cats at our Pennsylvania Campus in Chester County.

See Contributors Page https://chaddsfordlive.com/writers/
Comments
comments