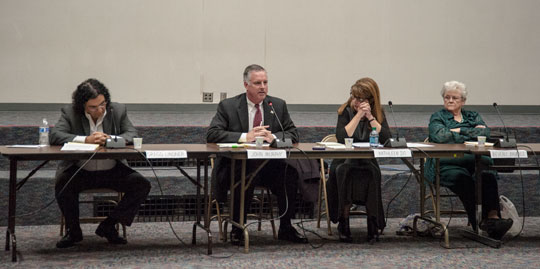 Two candidates — of the six running — were no shows at the Oct. 29 candidates' night and that became a flash point between two who did participate.
All three seats for Region C — Chadds Ford and Pennsbury townships — in the Unionville-Chadds Ford School District are up for grabs.
Lorraine Ramunno and incumbent school board Director Carolyn Daniels, both Republicans, were absent from the event held at Hillendale Elementary School. Their running mate, John Murphy mentioned during his opening statement that it was a shame that the League of Women Voters had scheduled the event with short notice.
He said Daniels and Ramunno had previous commitments.
During his closing comment, incumbent Director Gregg Lindner took issue with Murphy's earlier statement about scheduling the debate.
"We could have picked any of 30 days and none of your other two candidates would have shown up," Lindner said. "They had ample opportunity to come to [a previously scheduled debate] but chose not to. They had ample opportunity to come here and they chose not to. The comments you made at the beginning were straight out of the Republican Party. It wasn't necessary to do that."
He went on to say that the ticket with him, fellow incumbent Kathy Do, and former Republican Party Committee Woman in Pennsbury Township Beverly Brookes, has no party backing. "It's just the three of us."
Murphy responded by saying nothing of what he previously said was false. "You are party people," he said to Lindner. "You're on the Democratic Committee."
League member Charlotte Gosselink, who moderated the event, said it was scheduled three weeks prior and that all candidates had the same lead-time.
There was little disagreement on any of the other matters brought up.
Each candidate was allowed a two-minute opening statement and 90 seconds to respond to questions submitted by members of the audience. Each candidate responded to each of the questions.
The candidates were asked about their qualifications for being on the school board.
Do summed up her qualifications with one word, "Passion."
"When I really believe in something, people know it. I can be somewhat dogged and I think I sometimes drive me fellow board members crazy when I latch onto something I won't let go," she said.
As an example, she cited her position on not wanting the district to outsource school support positions such as busing.
Brookes, who spend 40 years as a Republican Committee woman, said she has a lot of reasons for running but stressed that she has four grandchildren attending district schools and that she, as is Do, passionate about public education.
"Education is the greatest gift we can give to our children," Brookes said. "I have been attending school board meetings for 35 years and I have seen the good, the bad and the ugly. I want to use my historical knowledge to keep the school board moving in the right direction so they don't make mistakes that were made in the past."
Lindner said he's running again as an advocate for fiscal responsibility. He said he's learned a lot in the business world, running businesses as larger as the district (Scarborough Research, a $70 million per year media research firm headquartered in New York) and wants to continue applying what he's learned in the business world.
He said by offering a counterbalancing force, he's helped move the district away from imposed tiered cuts that limited district educational offerings.
"I'm proud of the fact that Kathy [Do] and I have been part of the solution in making sure that did not continue," Lindner said.
Murphy, a newcomer to running for office, said his West Point education in engineering gave him an analytical mind and the ability to solve problems analytically.
"I like data. I like to understand the problems. I like to attack problems in an analytic manner, understand the options, gather facts and recommend a decision. That's how I would operate as a school board member," he said.
Candidates agreed that there is too much emphasis placed on high stakes testing, that it causes stress among students and parents alike and that parents should be able to have their kids opt out of some of the testing.
In terms of priorities — what they think the district needs are — there were some differences and some overlaps. Do and Lindner both agree the district should re-examine class size and that moving forward with including technology in the curriculum is important.
As previously reported, parents of third-graders at Hillendale have asked the district to look at class sizes because their children are in classes of 26 students, which is the maximum the district allows for third-grade. However, the parents as well as the two incumbent candidates, think that number is too high.
Incorporating technology into the classroom is also important. Do and Lindner both advocate expanding, if possible, the Chromebook pilot program at the middle school.
Brookes said she wants to find ways for the middle group of students, those whose grades are in the B and B-plus range, to be recognized. She said gifted and special needs students get all the attention they need, while the middle group is often overlooked.
Murphy sad he wants the district to be able to identify the lower performing students at a younger age so they can be brought up to speed sooner, and that the district needs to do a better job with autistic students.
While neither Daniels nor Ramunno took part in the debate, both were previously interviewed.
Ramunno, an attorney, said she felt it was time to give back to the community.
"I try to do a lot of volunteer work, both with the [Unionville High School] football team and the bar association, and now I think it's time to give back even more," she said.
Ramunno is not running with any specific "hot button issue" in mind, but said she was to make sure there's balance, integrity and transparency on the school board."
She said she doesn't think there's necessarily any imbalance right now, but there needs to be balance as far as spending is concerned.
"There are a couple of people who want to spend a lot of money. I believe [Do and Lindner] really want to spend money, based on what I've heard and read. They want to spend money without thinking about what's good. I don't want to take away anything, but I think it's important to have a balance with the budget," Ramunno said.
She stressed she doesn't want to take way from the teachers or the educational programs.
When asked where she would look to spend less, Ramunno said that was a hard question.
"I don't where I'd look. I'd look to see what was maintained in the budget, what was in the reserves and look to what was in the reserves as opposed to going out and taxing people," she said.
Ramunno added that raising taxes too high could lower property values "because nobody will want to live here."
She also said she had no qualms with the budget and teachers' contract that wee recently passed.
All of the candidates have children or grandchildren attending district schools, but Daniels said having four kids going through U-CF schools sets her apart because each of them has different learning styles.
"I have immersed myself into much of what our school district offers. As a 17 year volunteer, and 23 year resident, I have seen myself and my children grow up in this area and I am able to have been fortunate to develop strong ties to the people in the community, she said."
She said she sees her role on the board as "a representative for all" and focuses on the growth and wellbeing of all.
Daniels said she's proud of being in a leadership role on the district's Wellness Committee that revamped the policy for students' returning to school following concussions.
She is also the chair of the PTO Advisory Board and has been involved in a homework study seeking to understand and evaluate the current amount of homework given to students.
"I would also hope to be reelected to focus my energy on the students in the middle of the pack and continue the work of others before me on our bullying policy so that all students can come to school and feel they are in a safe environment to learn and thrive to reach their personal best," she said. "I feel that I bring the voice of the community, balance and transparency to the board."
The election is Tuesday, Nov. 3.
(Top photo: School Board candidate John  Murphy, second from left, answers a question during the Oct. 29 League of Women Voters debate at Hillendale Elementary School. He flanked by incumbent School Board Director Gregg Lindner and Kathy Do. On the far right is Beverly Brookes. Two others, Lorraine Ramunno and incumbent Carolyn Daniels, did not participate.)

Rich Schwartzman has been reporting on events in the greater Chadds Ford area since September 2001 when he became the founding editor of The Chadds Ford Post. In April 2009 he became managing editor of ChaddsFordLive. He is also an award-winning photographer.
Comments
comments