• William Bunch Auctions and Appraisals will be holding a food drive through the month of November to benefit the Chester County area families in partnership with the West Chester Food Cupboard.  The West Chester Food Cupboard is a 501c(3) nonprofit and serves nearly 600 local households each month and helps guarantee food security for many local families. Donations will be accepted on auction days Nov. 3, 10, and 24 as well as at designated preview times on Nov. 2, 9 and 23. Donations will also be accepted during business hours from 9 to 5. The public is encouraged to stop in and donate non-perishable food and personal items. Collection boxes will be located at the registration desk. Supporters are encouraged to bring donations starting Nov. 2 through Nov. 24 to William Bunch Auctions at 1 Hillman Drive in Chadds Ford, and follow the food drive's progress on social media.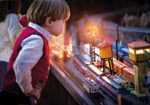 • From the spectacular O-gauge model train display with trains running on nearly 2,000 feet of track, to the collection of rare antique dolls dressed in beautiful period clothing, plus thousands of whimsical Critters (ornaments and decorations handcrafted by Brandywine volunteers from natural materials) displayed on towering trees soaring up through the museum's three-story atrium, A Brandywine Christmas promises delightful family fun, starting Nov. 27 at the Brandywine River Museum of Art.
•The Darlington Arts Center will host An Evening of Wine & Jazz on Saturday, Nov. 7. The evening begins at 6:30 p.m. with a Wine Basics course presented by Vinocity's Vicki Miller. Following the wine course, at 7:30 p.m. guests will be treated to the contemporary jazz of WoJamm & Shiron Denise. Tickets are $50 and all proceeds benefit Darlington Arts Center. All guests must over 21. Tickets are available for the Coffee House Concert alone for $15. Pre-registration is requested for both by calling (610) 358-3632 or visit www.darlingtonarts.org.
• The Land Conservancy of Southern Chester County is seeking volunteers to help plant trees along a riparian corridor at the future Chandler Mill Nature Preserve in Kennett Township on Thursday, Oct. 29 from 9 a.m. to noon. Duties will include the planting of potted native trees and shrubs, staking and caging. Volunteers, who should bring work gloves, water, and snacks, are asked to RSVP by emailing landmanager@tlcforscc.org.
• Kennett Township, Kennett Square Borough and New Garden Township are sponsoring a Shred and Electronics event for residents on Dec. 5 from 9 a.m. to 1 p.m. The event, which will be held in the parking lot of Kennett High School, is free; however, TV removal will require a $25 fee.

See Contributors Page http://chaddsfordlive.com/writers/
Comments
comments