Save the Valley, a citizens' group known primarily for its efforts to preserve the Beaver Valley area of Concord Township from development, has come out with endorsements in the two supervisors' races in Chadds Ford Township. And the endorsements cross party lines.
Save the Valley is endorsing incumbent Republican Samantha Reiner and Democrat Alan Horowitz. Horowitz it running against Republican Noelle Barbone in the Nov. 3 election. Reiner is running unopposed.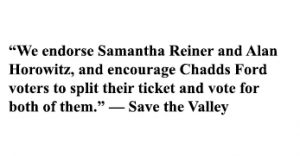 In an email from Save the Valley board member and Chadds Ford Township resident Rob Gurnee, the group said, "The upcoming supervisor elections in Chadds Ford Township are crucial to prevent the tide of unwanted development and traffic from spreading directly to Chadds Ford. Save the Valley is taking the step this election cycle to endorse candidates who are qualified for and are committed to this fight."
Criteria for endorsement include the likelihood of being effective regardless of party, the email, said, but also: "We choose not to support candidates who refuse to debate the issues or engage in substantive dialogue. It is our position that the issue of open space transcends political parties. Successfully addressing the issue of overdevelopment, as well as all the consequences that come from it, can be done by Republicans and Democrats alike. Voting for someone at the local level because of political ties only, while ignoring the urgency of the development issue, is a prescription for failure."
Of Reiner, the group said: "Samantha has performed admirably as a supervisor since being appointed in February. Her experience as township manager in Edgemont, as well as knowledge gained from chairing the Chadds Ford Open Space Committee and the Strategic Advisory Committee, enables her to be a very effective advocate for our cause. She has demonstrated leadership on important conservation issues and we have no doubt she will continue to do so. Although running unopposed, we think it is important to express our strong support for her election to office."
Regarding Horowitz: "As an environmental lawyer and a strong advocate for keeping Chadds Ford's remaining open space undeveloped, Alan clearly has the qualifications and commitment we are looking for. Based on his public statements and his willingness to answer our questions, we believe he will be a bulldog against unwanted development and can encourage bipartisan dialogue on important issues facing the township. His professionalism will be a valuable asset to the board and to its overall quality."
As a body, Save the Valley feels that Reiner and Horowitz "stand out as the type of champions for open space that Chadds Ford Township needs and deserves. We endorse Samantha Reiner and Alan Horowitz, and encourage Chadds Ford voters to split their ticket and vote for both of them."

Rich Schwartzman has been reporting on events in the greater Chadds Ford area since September 2001 when he became the founding editor of The Chadds Ford Post. In April 2009 he became managing editor of ChaddsFordLive. He is also an award-winning photographer.
Comments
comments