When Crozer-Keystone opened the Crozer Medical Plaza at Brinton Lake (300 Evergreen Drive, Glen Mills) back in 2005, the health system was ahead of the curve in terms of bringing high-quality, patient-centered health care services in an outpatient setting to western Delaware County. Today, Crozer Brinton Lake is the most comprehensive outpatient complex in the region with over 30 medical specialties and centers for cancer care, medical imaging, outpatient surgery, pain management, sleep medicine, endoscopy and more. To learn more, visit www.crozerkeystone.org/brintonlake.
Patients of all ages have access to the outpatient services in one of three convenient locations, next to the Shoppes at Brinton Lake, that also include the Crozer Health Pavilion (opened in 2007, 145 S. Brinton Lake Road, Glen Mills) and the Crozer-Keystone Regional Cancer Center (opened in 2011, 500 Evergreen Drive, Glen Mills). With free parking and first-class facilities, many residents of western Delaware County, eastern Chester County, and northern Delaware have chosen to make Crozer Brinton Lake their medical home of choice as a preferred destination.
Crozer Brinton Lake by the Numbers
150,000 and Growing: Number of care visits delivered annually at Crozer Brinton Lake
141,500: The combined number of square feet in all three buildings at Crozer Brinton Lake
Patrick Gavin, executive vice president and chief operating officer for Crozer-Keystone and president of Crozer-Chester Medical Center, comments, "When it comes to the success of Crozer Brinton Lake, we have to give credit to the Crozer-Keystone Board of Directors for observing trends in our county and in healthcare and taking action. As the county's largest employer and healthcare provider, Crozer-Keystone looked at the needs of Delaware County – including the tremendous population growth in western Delaware County – and worked to open facilities where residents could receive quality healthcare from trusted providers right in their backyard."
In appreciation of the dedicated and loyal patients that choose to receive care at these locations, Crozer Brinton Lake will host a community event on Saturday, Oct. 24 from 9 a.m. to 12 p.m. within both the 300 and 500 Buildings of the Crozer Medical Plaza. Everyone is invited to attend this festive event that will include entertainment courtesy of Makin' Music, Mr. Scott the Music Man, local dance groups and more. In addition, the event will include a scavenger hunt, arts & crafts for children, health screenings and information, and the opportunity to make appointments with medical imaging, other medical specialties and physician's offices.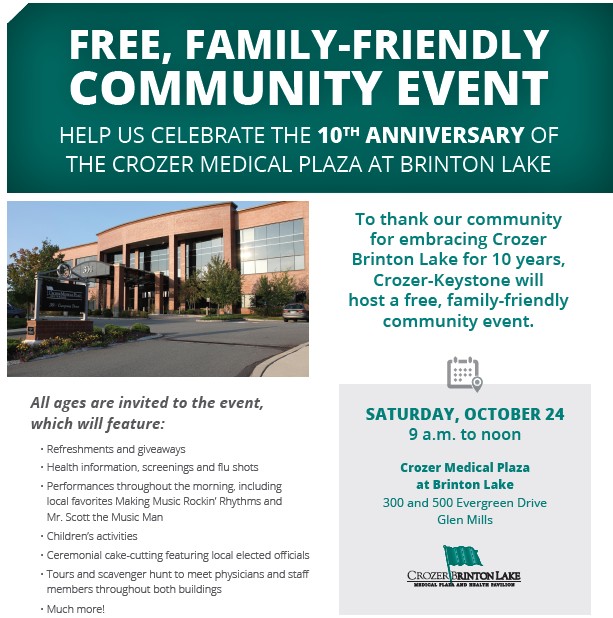 Comments
comments