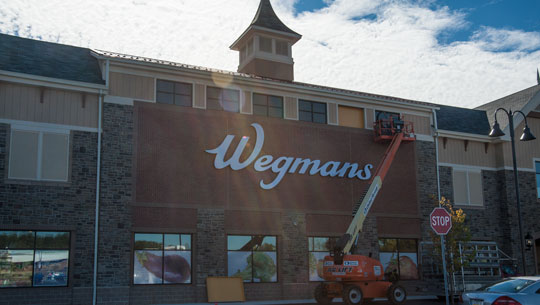 The long-awaited opening of the Concord Township Wegmans Food Market is just weeks away. A grand opening is scheduled for 7 a.m. on Sunday, Nov. 8.
According to a press release, store manager Todd Strassner Jr. said Wegmans would prove itself to be "true one-stop shopping to make your life easier."
Wegmans' website says the store will be a 24-hour operation, with a pub operating from 11:30 a.m. to 9 p.m. Sunday through Thursday and 11:30 a.m. to 10 p.m. on Fridays and Saturdays.
While many people have been eagerly anticipating the opening of the Wegmans in Concord, there are also shops scheduled to open on the Chadds Ford Township side of the development.
Peter Miller, president of Carlino Construction, said that Wendy's, Chipotle, a Pennsylvania state store and other businesses will be moving into the township along Route 202. Among the other shops are a Hair Cuttery, a nail salon, a Starbuck's coffee shop, a Sleep Number store, an AT&T store and a Vitamin Shoppe.
As yet, there's no definite word on when those shops will be opening, but Miller said some will start opening later in November and others are planning to open through January.
The development will also bring the completion of the third leg of the loop road — Applied Bank Boulevard — around the intersection of Routes 1 and 202. The road is already open, though Miller asks that people not use it yet because there's still construction vehicles working there and the road is not yet completely paved.
Miller also said there would be a $3,000 donation to Walkable Chadds Ford.

Rich Schwartzman has been reporting on events in the greater Chadds Ford area since September 2001 when he became the founding editor of The Chadds Ford Post. In April 2009 he became managing editor of ChaddsFordLive. He is also an award-winning photographer.
Comments
comments