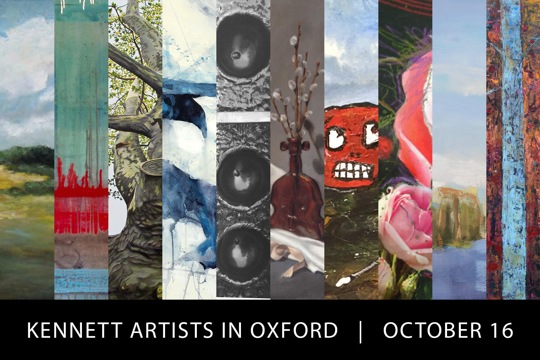 Oxford Art Alliance show of "Kennett Square Artists" opens this Friday, with reception 5-8pm at their location at 38 South Third Street in downtown Oxford. Ten artists, including Dave Beck, Katee Boyle, Dorthy Bucher, Frank DiPietro, Lele Galer,
Carol Lesher, Susan Myers, Janice Silberman, Peter Willard and Sarah Yeoman will present their latest works including some experimental pieces. Check out the show which runs through November 17th, or come to the reception and meets the artists and enjoy some Galer Estate wine this Friday.
Katee Boyle, painter and metal sculptor, has been hard at work with fellow metal sculptor Rob Sigafoos, creating commission public art works ever since their huge success at making the Kennett Square sign for Philter. For the show, Katee designed some fantastic steel corsets, with a combination of hand-forging and welding.
I designed a 6 foot tall steel wrapped heart that I've been working on for months, but the real cheers goes to artist Rob Sigafoos who finally finished a seven year project installation of a massive hand forged steel spiral staircase. The stairs wind up a magical steel patina tree, with vines and leaves that wind their way up through to the second story. Katee Boyle helped make hundreds of the leaves, and many of the branches were forged from large metal pipes. Bravo!!
The Delaware Valley Art League (DVAL) has been busy throughout the past year with art shows in many major hospitals, public areas and banks from here to Philadelphia, but unfortunately, the beauty of their work has attracted an art thief who made off with 5 paintings from a recent show. The perpetrator was caught on tape, carefully choosing which two paintings to steal, then coming back the next day to steal three more! Go to the DVAL website (http://www.delawarevalleyartleague.com) for an image of the art thief and perhaps you can help the artists get their work back!
On a happier note, DVAL started off their new season with their monthly meeting and presentation by local artist Betz Green who demonstrated "Silverpoint" drawing. Every month, DVAL members meet and discuss upcoming shows, and then a selected artist demonstrates an art medium to the large group of member artists. I had never heard of silver point before, and Betz'z work was breathtaking, beautiful, and subtle. Apparently you can draw with any metal (silver, copper, bronze etc) on a prepared surface. This is what the old masters used to draw with - no messy medium issues or sealant needed, and the metal oxidizes over time to create a lovely patina. With all the art shows that you can enter and the monthly art demonstrations and classes, DVAL is a gem of an art association to join for any artist.
The Kennett Symphony is hitting a very high note this Saturday with their 75th Anniversary opening gala concert at Unionville High School's Performing Arts Center. The Kennett Symphony has had 75 successful years serving our community as Chester County's only fully professional orchestra, and with the extraordinarily talented Music Director Michael Hall at the helm, this will truly be a fantastic season. Included in the program for this Saturday's performance is a world premiere by a young, up and coming composer, Anthony Constantino, currently studying at the Manhattan School of Music. The Symphony commissioned him to compose a celebratory piece specifically for their 75th Anniversary. They also welcome a young graduate from Curtis, Timotheos Petrin, who will perform the Saint Saens Cello Concerto. Ensemble pieces will also include Puccini's Crisantemi and Respighi's epic Pines Of Rome.
To honor The Kennett Symphony history, before the concert, there will be a special display of historic memorabilia about the Kennett Symphony, as well as a welcome to former symphony musicians including 2 members from their opening concert back in 1942. What a wonderful evening that celebrates an historic anniversary and incorporates the new and innovative! Tickets are still available on line, and while already very reasonably priced, there is a further discount if you buy a season's pass. I did!

Lele Galer is an artist who has chaired numerous art shows, taught art history and studio art, public art and has chaired, written and taught the Art in Action Art Appreciation series for the UCFD schools for the past 12 years. She worked at the Metropolitan Museum of Art, and wrote for the Associated Press in Rome. She has been dedicated to Art History and art education for most of her adult life. Lele and her husband Brad own Galer Estate Winery in Kennett Square.
Comments
comments