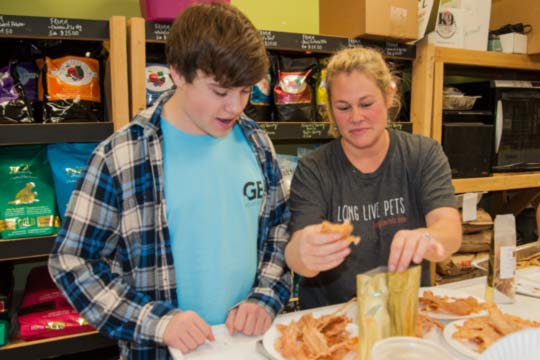 It's been a three-way win for students, Garnet Valley High School and some local businesses, including GiggyBites in Olde Ridge Village.
The conduit is the Garnet Valley Community-based Work Experience Program for special needs students, according to Jen Kontis, the transition support and work experience coordinator.
Kontis said the program, which involves students ranging in age from 14 to 21, is tailored for individual students based on their own transition plan from high school to the working world.
Students are taught basic skills in school, but interning at a real business helps them fine-tune those skills — such as problem solving, socializing and communicating — in an authentic work environment, Kontis said.
"They learn to communicate on a professional level," she said. "They get to apply the skills they learned in class."
One of the special needs students is Tanner Salus, a 17-year-old senior at Garnet Valley. Tanner started in the program last school year and is now doing well while interning at the Jewish Community Center in Wilmington, serving meals to senior citizens, and helping out at GiggyBites, the pet treat business.
"It's been a great experience for me," Tanner said while weighing and bagging some pet food jerky. "I love to be here every day."
He said he'd like to get a job, especially at GiggyBites, once he graduates.
Kontis said Tanner has greatly improved his communication and social skills out in the working world.
Stephanie Rossino, owner of GiggyBites, has been partnering with Kontis and her program for seven years and has had six different interns in that period.
"I was approached shortly after we opened, and I was interested in the program and wanted to help the kids," Rossino said. "For us to be able to help identify an employable skill set, that's a success story. The experience has been 95 percent good."
That other 5 percent, Kontis said, was actually a positive for the program.
A previous student interning at GiggyBites had become agitated and loud. The two work coaches with him, both men, took him outside to calm down. He was still loud, and some of the neighboring businesses became alarmed. They misinterpreted what was happening, she said, and called the police, thinking the boy was in danger.
Once everything was explained, Kontis said, the other business owners relaxed, became aware of the program, and one expressed interest in becoming a partner.
The program has more than 30 business partners with about 15 taking part at any given time, Kontis said.
In addition to GiggyBites and the Siegel Jewish Community Center, Maris Grove and Two Men and a Truck also participate, as do RTA Home Medical Equipment and Medical Supply and the Widener University Bookstore in Wilmington.
"The students go to a variety of different places and perform a variety of different tasks," Kontis said.
Additionally, some of the students bring back work to the school to help other special needs students who aren't yet ready to do an internship, she said. That was the case with a former intern at GiggyBites who brought back to school packages of pet treats that needed labeling.
Garnet Valley High School has been running the program on its own since 1997. Before that, the Delaware County Intermediate Unit ran it.
The program motto is: "Teamwork is the fuel that allows common people to produce uncommon results."
There is a similar program in the Unionville-Chadds Ford School District, but it's run through the Chester County Intermediate Unit, according to U-CFSD Director of Special Education Leah Reider.
(Photo: Tanner Salus works with Julie Jadlocki weighing and bagging pet jerky made at GiggyBites in Olde Ridge Village.)

Rich Schwartzman has been reporting on events in the greater Chadds Ford area since September 2001 when he became the founding editor of The Chadds Ford Post. In April 2009 he became managing editor of ChaddsFordLive. He is also an award-winning photographer.
Comments
comments