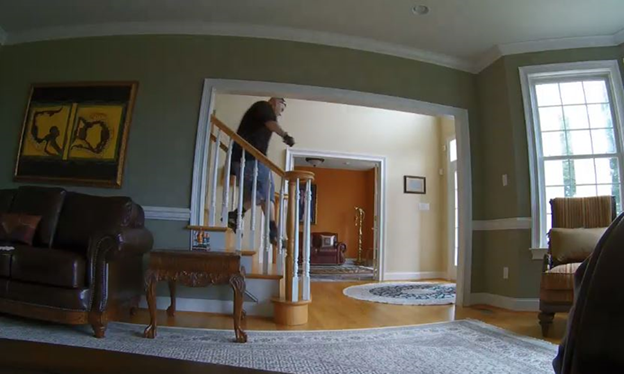 Pennsylvania State Police from the Media barracks are continuing their investigation into a daytime burglary that occurred on Saturday, Sept. 11 at 12:19 p.m. on Ring Road in Chadds Ford Township. The suspect is described as a white male, 30 to 40 years of age, 6 feet to 6 feet 4 inches tall, heavy build approximately 240-260 pounds, wearing black boots, jean shorts, black t shirt and black gloves. The suspect kicked in a side door to make entry, then ran up into the master bedroom on second floor and rummaged through the closet and drawers. He then ran out the side door of the residence. Home video surveillance captured the attached image of the actor. As of this time nothing has been determined as missing from the residence.
Police believe that the person committing these crimes is selecting homes that appear to be vacant and that he approaches the home and knocks on the door before forcing entry into the home. Police are asking residents to remain vigilant and to immediately call 911 with any incidents where an unexpected person makes contact with them at their home. Residents are urged to try and document the physical description of the individual and vehicle. Police are also asking residents with video systems to check their system for any suspicious activity.
Any agency with similar investigations or that has a suspect fitting this description is asked to contact Tpr. Brian Richardson at brrichards@pa.gov or 610-558-7080.

See Contributors Page https://chaddsfordlive.com/writers/
Comments
comments