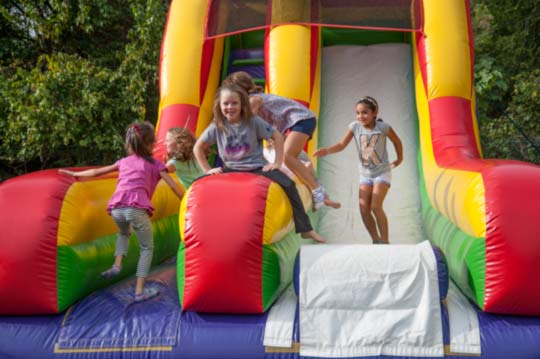 • Top photo: Students enjoy some playtime during the third annual Fall Festival at Chadds Ford Elementary School on Sept. 25. The event is a fundraiser for the PTO. Event chairman Lisa Albany said she was hoping this year's festival would raise $3,000. Last year's raised $2,500, she said.
• The Darlington Arts Center in Concord Township invites the community to a Back to School Arts Party on Saturday, Oct. 3 from 6 to 8 p.m. The party celebrates music, art, dance, and drama and will include exciting performances and exhibits from Darlington's professional teaching artists, plus a collaborative community art project. Refreshments will also be provided. There is a $20 recommended family donation.
• Concord Township will hold a recycling day on Saturday, Oct. 10, from 8 to 10 a.m. at the Public Works Garage on Smithbridge Road. Residents can recycle electronics, shred documents, donate used clothing and other household items. Township igloos will be available for drop-off of paper, cardboard, glass, aluminum, plastics (#1 PET & #2 HDPE) and inkjet cartridges. No smoke detectors, large appliances, projection TVs, fluorescent bulbs, loose batteries, or hazardous waste/liquids will be accepted. Proof of residency is required.
• Families can use light and color to create art during a special workshop on Sunday, Oct. 4, from 11 a.m. to 1 p.m. at the Brandywine River Museum of Art. Admission is free on Sunday mornings from 9:30 a.m. to noon. Families will explore the process of photography by printing a collage of natural materials on special Sunprint paper and will go out into the landscape to make a sun catcher that reflects the changing colors of fall. At noon, dancers from the Academy of International Ballet will perform a variety of classical and contemporary works, as well as excerpts from the Nutcracker Ballet.
• The 18th annual Kennett Brewfest is set for Oct. 10, from 2 to 6 p.m. on South Broad Street. Festivalgoers will be able to sample beers from myriad brewers from around the country; there will also be food available. A $50 admission allows the ticketholder an unlimited number of 2-ounce beers, a press release said.
• In conjunction with Fire Prevention Week, which begins Oct. 6, Longwood Fire Company will be visiting Hillendale Elementary, Pocopson Elementary, Chadds Ford Elementary, Greenwood Elementary, Westtown Academy, Ducklings, Kendal Day Care, and Fairville Friends to discuss fire prevention.
• Runners of all ages and abilities are invited to race through scenic and challenging terrain for Natural Lands Trust's second annual ChesLen Chase for Open Space on Saturday, Oct. 24, at the 1,263-acre ChesLen Preserve in Newlin Township. Choose among three courses—a 10K run, a 5K run, and a 2-mile run/walk— all of which traverse ChesLen Preserve's beautiful landscapes. Racers will enjoy a post-race party with food, drinks and live music. For more information, go here.
• The second Be Alive & Thrive at the Exton Square Mall will be held on Oct. 17, a community event that focuses on mind/body wellness with a goal of increasing awareness about mental health and suicide prevention. The day will include demonstrations, art projects, a selfie station, music, and Reiki relaxation treatments. Main Line Health Center, located at the Exton Square Mall, will provide health screenings and nutrition information. A ceremony to remember those lost to suicide and mental health conditions will take center stage in the afternoon.
• The West Chester Preservation Awards has reached an important milestone, celebrating its fifth year of recognizing and honoring projects and persons that highlight and preserve West Chester's historic character.  Presented by the West Chester Downtown Foundation, this year's Oct. 22 ceremony will transition from a morning breakfast to an evening reception with wine, beer, and a light buffet catered by Limoncello Ristorante. The awards will be presented at the Chester County Historical Society at 5:30 p.m.  Tickets are $20 and can be purchased at: http://www.eventbrite.com/e/west-chester-preservation-awards-tickets-18397530509?aff=es2r. For more information, visit DowntownWestChester.com.

See Contributors Page http://chaddsfordlive.com/writers/
Comments
comments