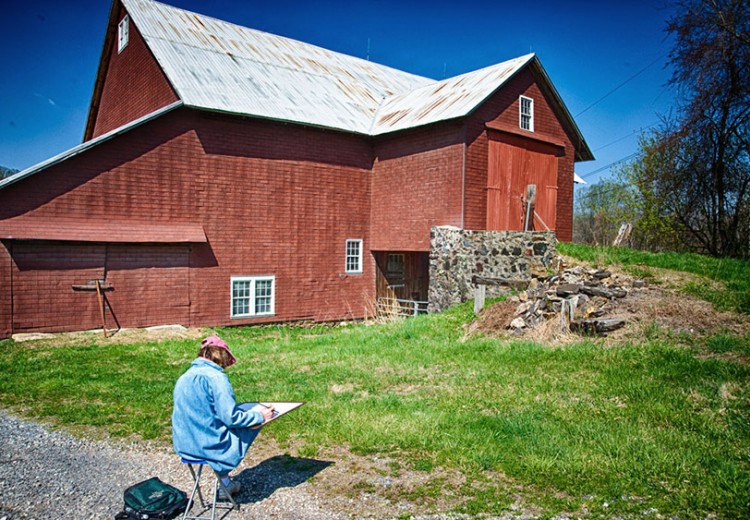 • The Brandywine River Museum of Art is holding a plein air painting event at the Kuerner Farm on Friday, Oct. 2, and Sunday, Oct. 4 (rain or shine), from 9:30 a.m. to 4:30 p.m. The cost is $15 for member; $20 for non-members for all-day access. Artists working in all media are invited to explore the Kuerner Farm, where they can sketch, paint or photograph the property where Andrew Wyeth found intriguing subjects for hundreds of tempera paintings, watercolors and drawings for more than 70 years. Participants will meet at the museum parking lot at 9:15 am before driving to the farm. Water and bathrooms are available at the site. Participants are responsible for providing all art materials. Spaces are limited. Registration is requested by contacting the education office at 610-388-8382 or education@brandywine.org.
• The Delaware Nature Society will hold its annual Harvest Moon Festival at Coverdale Farm Preserve on Saturday, Oct. 3, and Sunday, Oct. 4, from 10 a.m. to 5 p.m. The festival features plenty of fun for the whole family, including pony rides, a straw bale maze, cow-milking, face-painting, candle-making, live music, a farmers market, food trucks, a Dogfish Head beer tent, and more. Members of all ages get in for free; admission for non-members ages 5 and up is $7. Non-members will have the opportunity to become members at the admissions table. For more information, visit www.delnature.org/HarvestMoon. Coverdale Farm Preserve is located at 543 Way Road in Greenville.
• The Chester County-based Pipeline Safety Coalition is hosting a free pipeline safety public forum at the Downingtown East High School, 50 Devon Drive in Downingtown, on Tuesday, Sept. 29, from 6 to 9 p.m. The evening will include presentations from experts on pipeline safety, an independent assessment of the Sunoco Mariner proposals as it affects Chester County, and a question-and-answer session. Updates on the determination of eminent domain issues will also be discussed. The forum is supported by PHMSA and the Chester County Board of Commissioners. Registration is recommended at www.pscoalition.org/pages/news.
• Olde Ridge Village will be holding its Fall Festival on Sunday, Oct. 11, from 11 a.m. to 4 p.m. This event is open to all members of the community, their families and children, including their dogs. Activities will include a moon bounce and face painting for kids, specials at participating shops and a huge basket with gifts from the Ridge Village Shops.  Everyone attending will receive a ticket to win the basket. In addition to the large tent of tables outside and the specials in the stores, Salon Sestra is celebrating its grand opening with goodie bags and snacks, and Dan Doubet Jewelers is celebrating its 30th anniversary with special 30 percent off sales on most of its jewelry and gifts. Twinkle Resale Boutique is also celebrating its grand opening and will have live mannequins modeling its items.
• The Delaware County Symphony will present the first symphonic concert of the 2015-2016 season on Sunday, Oct.18, at 3 p.m. in the Meagher Theatre of the Thomas A. Bruder, Jr. Life Center at Neumann University. Ricardo Morales, clarinet, is the featured guest soloist and will perform the beloved Clarinet Concerto in A Major by Wolfgang Amadeus Mozart. The concert will also include First Essay, Op.12 by Samuel Barber, On Hearing the First Cuckoo in Spring  by Frederick Delius, and Symphony No. 2 in D Major by Jean Sibelius.  All are invited to a free pre-concert presentation by Dr. Michael Kelly from 2 to 2:30 p.m. in the McNichol Room. Concert tickets are $18 or $15 for seniors/students. Neumann University students with IDs are free and children under 12 (one child per paying adult) are free. There is ample free parking adjacent to the theatre and the center is handicapped accessible. For information call 610-879-7059 or visit www.dcsmusic.org

See Contributors Page http://chaddsfordlive.com/writers/
Comments
comments