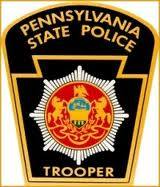 • Police said Christopher Allard, 34, of Glen Mills, was arrested in the Glen Eagle Square parking lot on Sept. 13. A report said Allard was initially arrested for drunkenness and disorderly conduct, but was also arrested for resisting arrest.
• A Philadelphia woman, Meredith L. Lambert, 31, was transported to Riddle Hospital following an accident shortly before 6 p.m. on Sept. 13, according to police. A report said Allard was driving south on Route 1 near Thornton Road in Concord Township when she lost control of her car, struck a utility pole, came back onto the roadway, and hit the center median barrier. Police described her injuries as minor.
• Brian Pennock, 22, of Avondale, was arrested for DUI, according to a police report. The report said Pennock was stopped on Route 1 at Polecat Road for failing to stay in his lane of traffic. After the stop, police said, he was determined to be DUI.
• A 73-year-old woman from Malvern was cited for her involvement in a two-car crash on Route 202 at Brandywine Drive in Chadds Ford Township on Aug. 22. Police said Miriam M. Leman was eastbound in the left hand lane of Brandywine Drive while the second vehicle was westbound on State Farm Drive, on the other side of 202. With a green light for both drivers, the second car came across 202 as Leman was turning left onto that road. Leman failed to yield, police said, and crossed into the path of the oncoming car. No injuries were reported.
• A fugitive from justice, Xaquoia Sani DeShields, 21, of Kennett Square, was arrested on Route 1 at Ring Road in Chadds Ford on Sept. 14. A report said DeShields was stopped for traffic violations and troopers found an active arrest warrant had been issued in Delaware.
• Police arrested Darrell Dorsey, 33, of Lincoln University, on DUI charges. A report said Dorsey was stopped for traffic violations at Routes 1 and 100 at 1:29 a.m. on Sept. 15 and determined to be driving under the influence.
• State police are investigating a theft of services case involving Domino's Pizza in the Painters Crossing shopping center. On six different occasions on Sept. 9 and 10, unknown people ordered food online, but gave fake addresses or never picked up the order. Names and phone numbers given were also fake, but the police report said the Internet provider numbers are listed and will be investigated.
• As reported on Sept. 12, state police are investigating the break-in and attempted burglary of a home on Ring Road that happened at 12:19 p.m. on Sept. 11.
• Police are looking for a suspect in connection with the passing of a counterfeit $100 bill at California Tortilla in the Concordville Town Centre on Aug. 16. According to a police report, a woman described as a white Hispanic female, roughly 25 years of age, about 5 feet 8 inches tall and weighing 125 pounds with brown hair and eyes, paid for $8 worth of food with a $100 bill that later proved to be counterfeit. She left the store with $92 in change.
• Jennifer L. Patton, 41, of Landenberg, was cited in connection with an accident on Route 1 at Route 202 on Sept. 4. Police said Patton was driving northbound behind a tractor-trailer. The truck entered the intersection through a red light and Patton followed without seeing the signal. Another car, on Route 202, entered the intersection with a green light after the truck had passed, but was then struck by Patton's vehicle. No injuries were reported.
• Police cited Erin Abrams, 22, of Emerson, N.J., for following too closely after she rear-ended another vehicle on Route 202 near Smithbridge Road on Sept. 8 at 5:54 p.m.
• State police from Troop J, Avondale barracks, arrested Steven Scott Larick, of Landenberg, for DUI, according to a police report. The report said Larick was stopped on Route 1 south near Route 52 at 12:36 a.m. on Sept. 12.
• Victor Okoduwa Kakulu, of Newark, De., was arrested on drug possession charges following a traffic stop in East Marlborough Township on Sept. 12. Police said the stop was made at 10:13 p.m.  along Route 1 south of School House Road. According to police, Kakulu was arrested for DUI and possession of five grams of marijuana.
• No one was cited, but one driver was reported to have sustained a minor injury in a two-vehicle accident in Pocopson Township on Sept. 12. A police report said Andrea S. Morris, 60, of West Chester, was hurt after a Ford Ranger driven by Michael J. DiRocco Sr., 52, of Downingtown, struck her Honda Civic. According to police, Morris was driving north on Route 52 at 11:54 a.m. DiRocco was driving south on 52 when his vehicle began to skid while negotiating a left-hand curve. The Ranger slid into the northbound lane, striking Morris' car.
• State police from the Embreeville barracks are warning residents about a 37-year-old man "considered to be dangerous" who left a treatment facility in Westtown Township on Sunday, Sept. 6, at 4 p.m. Police said Dwayne J. Leason of Pottstown had been ordered by state parole agents to complete a residential program at Gaudenzia Inc., a state Department of Corrections housing facility. Anyone with information is asked to contact police at 610-486-6280.
• State police from the Avondale barracks charged a 43-year-old Kennett Square woman with contempt for violating a protection-from-abuse order. Police said the violation occurred on Sept. 3 at 8:56 p.m. when Megan B. O'Connor went to an East Marlborough business in the 500 block of North Walnut Road where the victim worked. Police said O'Connor hung "harassing messages on the exterior of the building."

See Contributors Page https://chaddsfordlive.com/writers/
Comments
comments