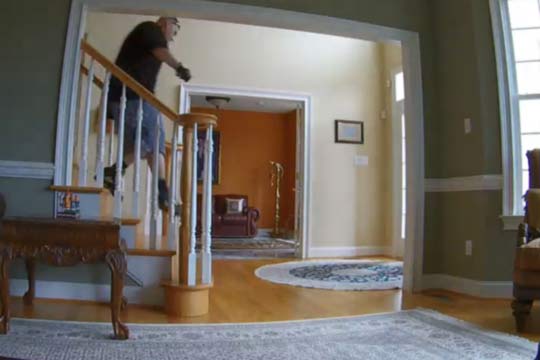 A security camera in a home on Ring Road in Chadds Ford Township caught the image of a would-be burglar fleeing the home as the security alarm was sounding in the background.   Video
According to the homeowner, evidence indicates the suspect first tried to gain access through a rear door. When that failed, he tried a side door. That door, too, held but the suspect kicked it in and gained entry. While inside and on the second floor, the alarm sounded and the burglar fled.
The security company phoned the homeowner who went home and found three Pennsylvania State troopers already there. The homeowner then checked his cell phone, which is linked to the security camera at the house. The video shows the suspect running down the stairs. The homeowners said they hadn't noticed  anything missing, adding that the police were glad to have the video evidence.
According to the time stamp on the phone, the incident happened at 12:19 p.m. on Friday Sept. 11.

See Contributors Page http://chaddsfordlive.com/writers/
Comments
comments