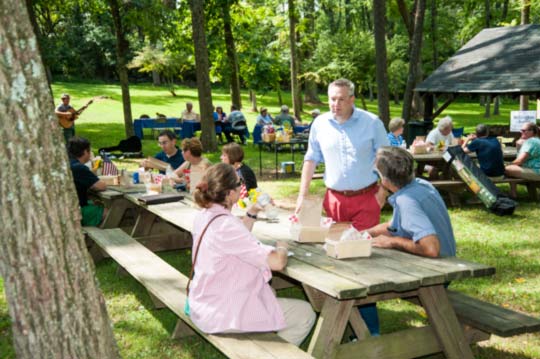 There's early movement in the Concord Township supervisors' race. Democrats Dan Foster and John Wellington, who are going up against incumbents Gail Ryan and Kevin Donoghue in November, held a fundraiser picnic in the park at Newlin Grist Mill.
Foster, who also ran for supervisor in 2013, said he was the first Democratic Party candidate to run for supervisor in Concord for 40 years. He said he knows it's an uphill fight to beat a Republican, but he thinks there are people who want to see some bipartisanship on the board, and Democrats are not the only ones who want that.
"I think there are enough Republicans who are not pleased with how the township has been overdeveloped," he said, adding, "I believe you have to put in the work to earn people's trust, and that will take time. It's not going to happen overnight. My chances are a long shot, but there are people who want to see Democrats and Republicans working together."
Both Foster and Wellington each said one of their primary reasons for running is to protect open space. Foster also said he wants more green space and to work on zoning changes "to make it harder for developers in Concord Township."
While all municipalities must have ordinances that comply with the state's Municipalities Planning Code, Foster said he thinks Concord's codes, though in compliance, are still too lenient.
He said a 2004 comprehensive plan update called for a number of changes to protect open space, but those resolutions, he said, have not been implemented.
Foster and a few other residents have proposed to supervisors some ideas that would make it tougher for developers and easier to protect open space.
"Parking lots should not be included in calculations for open space. Backyards should not be included in those calculations," he said. "They're small little changes, but they have a huge impact…Open space should be green space. Asphalt should not ne included in those calculations."
Wellington also said he's hoping to restore representation for the people "and not for the developers who are the ones who contribute to the Republican Party in this township."
A third point, Wellington said, is to bring back fiscal responsibility.
He acknowledged that township property taxes have not gone up, but that increased development has led to more students' attending schools in the Garnet Valley School District and that has resulted in an increase in school taxes.
Wellington is optimistic about the chances of one or both Democrats winning in November.
"In 2013, Dan only lost by several hundred votes so, even though this township is roughly 63 percent Republican. There's enough underlying current of dissention that I think we have a strong chance of making a change in this township."
Even if both Democrats should win in November, they would still be minority voices on a five-member board, but Wellington said they could still have an impact on what happens in the township, even if it's only in keeping residents aware of options.
"What we need to do is keep bringing those ideas up in meetings, keep them in the forefront of people's minds. There's going to be another election in 2017, and you never know what's going to happen," Wellington said.
(Top photo: Democratic Party candidate for supervisor John Wellington meets with Concord residents during a fundraier picnic.)

Rich Schwartzman has been reporting on events in the greater Chadds Ford area since September 2001 when he became the founding editor of The Chadds Ford Post. In April 2009 he became managing editor of ChaddsFordLive. He is also an award-winning photographer.
Comments
comments