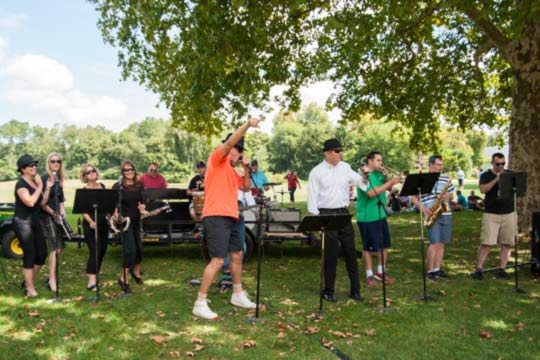 The school buildings are ready, and so are the faculties and staffs of Unionville High and Charles F. Patton Middle schools. And collaboration is the name of the game.
That collaboration is what UHS Principal Jimmy Conley and Patton Middle School Principal Tim Hoffman have in mind for the entire school year.
"The goal that Tim and I have is to promote the concept that we're two separate buildings, but we're really one campus," Conley said during an Aug. 27 faculty picnic in the grassy area between the two schools. "Even now, we have middle-school students in the high school taking classes. So it's great that our middle-school kids see the high-school teachers and interact with the two staffs."
Looking ahead to the 2015-2016 school year from an academic perspective, Hoffman is predicting a "fantastic year."
"Jimmy and I have been doing a lot of work together looking at what we call our articulation, an eighth-grade to ninth-grade kind of thing in that one-campus idea," Hoffman said. "Having our teachers collaborate more will just continue to improve our program. That's one of our big goals for this year."
The partnership will consist of sharing ideas and working together on curriculum, Hoffman added.
"Different teaching practices. Best practices," he said. "There will be peer visits so they can see what the high English teachers are teaching, how they teach, then bring that back, and vice versa. A high-school teacher can visit the middle-school English class and see where they're coming from."
The difference between older collaborations and the new one, Hoffman said, is just a different way of looking at things – with an eye on those best practices.
"We have a wealth of talent on our staffs, and sometimes we need to tap that and have our teachers teach other teachers," Hoffman said.
Conley added that it's not just about curriculum. It's about creating teamwork to smooth the transition from middle to high school.
"We want to create that partnership where a student leaves the middle school and can't wait to come to the high school. At the end of the school year, Tim and I walk the eighth-graders into the [high school] gym; that's symbolic because I'm their principal now, but Tim will always be their principal in some way, and they're always connected to the middle school as well," Conley said.
Hoffman added, "We want them to be excited to go to the high school, but sad to be leaving the middle school. We're looking to build the spirit in both schools."
The picnic included live music courtesy of a re-formed UHS Faculty Band.
Conley said it's great having it back together after a hiatus of a few years. But he jokingly said he has one fear: They might be so good that he'll lose them as teachers to a music career.
The band will probably perform again at the talent show next year, Conley said, adding, "It would be cool to have the middle-school folks join them."
Conley is entering his first year as UHS principal. The school board named him to replace Paula Massanari, who retired at the end of the last school year. He previously served as vice principal at the school for two years, and taught there for 10 of his 16 years as an English teacher.
(Photo: Teachers, members of the UHS Faculty Band, perform during a faculty cookout.)

Rich Schwartzman has been reporting on events in the greater Chadds Ford area since September 2001 when he became the founding editor of The Chadds Ford Post. In April 2009 he became managing editor of ChaddsFordLive. He is also an award-winning photographer.
Comments
comments