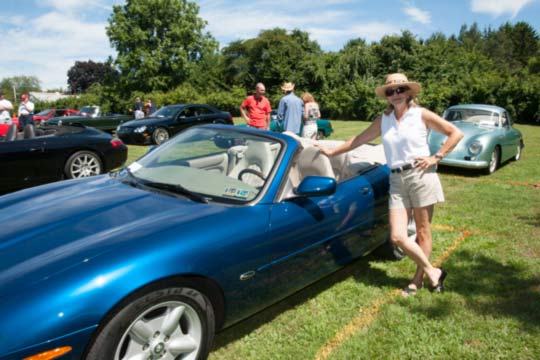 People love all kinds of things. Among those things are cars. And some love to show off their pride and joy.
Penns Wood Winery, on Beaver Valley Road in Concord Township,  gave car lovers a chance to do just that with the winery's fifth annual car show. The name has been changed, though. What was once just a show for Ferraris, is now open to all types of classic, expensive, high-end cars. The event is Cars, Vines and Wines.
Carley Mack, the winery's co-owner and marketing manager, said Penns Woods was anticipating about 500 people attending the Saturday, Aug. 22 event. The name was changed, she said, because collectors of other classic cars wanted to take part.
"Different car collectors were interested in showcasing their vehicles, and it seemed stale to call it a Ferrari show when we have Maseratis, Porsches, Mercedes," she said.
In addition to the 500 visitors who come to look, have some wine and listen to live music, Mack said about 50 classic cars were expected, and some of those would be walk-ins because a lot of collectors don't like to take their cars out without knowing if the weather would be good.
Sheree Richnow, of West Chester, was one of the car owners who came out. She was showing her blue 1997 Jaguar XK8 convertible for the third year.
She said she does a lot of car show, including Cars and Coffee every Saturday morning at Dilworthtown Road and Route 202, and thinks the show Penns Wood is just a good event. The attraction, she said is simple.
"If you like airplanes you go to airplane events. If you like your car a lot, you go to car things," Richnow said. "We look for them. We look for opportunities to hang out with people who have a common interest."
She told the tale of how she came to own the car. She said it was originally her neighbor's car and she would see him driving it by her house and for years would try to flag him down. One day, he stopped.
"I wanted this car my entire life. I said [to him] 'Here's $1. This is my down payment on this car, my deposit. Don't you dare sell my car. A year later I paid him cash for the car," Richnow said.
Dave Fielder, of Bensalem, was on hand with his red 2006 Ferrari F430 Spider.
He said the allure of the Ferrari is that it is classic.
"It has a certain level of exclusivity in the sense that there's not a lot of them around. In [the Ferrari owner's] mind, it's something we've always wanted.
Fiedler acknowledged he doesn't take the car out too often, usually only when there's a show or a Ferrari club event. He also admitted to taking the car up to 110 mph.
"Occasionally there are opportunities on an interstate where you can open it up for short distances, but at my age, that 'need for speed' has passed me by," he said.
In addition to the Jaguars and Ferraris, there were also Corvettes, Porsches and an MG Midget on display.
Visitors to the event paid $16 in advance, $18 the day of the event to walk the grounds, eat drink, listen to live music and take in the ambience of the day.
(Top photo: Sheree Richnow, with her 1997 Jaguar XK8. She said she bought the car from a neighbor one year after giving him a $1 down payment.)

Rich Schwartzman has been reporting on events in the greater Chadds Ford area since September 2001 when he became the founding editor of The Chadds Ford Post. In April 2009 he became managing editor of ChaddsFordLive. He is also an award-winning photographer.
Comments
comments