Mt. Cuba Center has released their Fall-Winter 2015-2016 Program Guide, which offers a wide-range of gardening, conservation, art and wellness classes, as well as featured programs and events.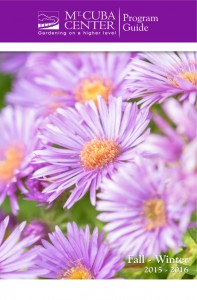 "Whether you are adding to an existing garden or planning a new one, fall is a great time of year to plant perennials, shrubs, and trees. People often think of autumn as the end of the gardening season, but at Mt. Cuba Center, we subscribe to the belief that many beneficial tasks and the pleasures of gardening can continue into the cool, colorful, and calm days of fall," says Duncan Himmelman, Education Manager at Mt. Cuba Center.
The Fall-Winter Program Guide shows that gardening goes far beyond the summer months. September classes The Native Plants of Fall and Fall Wildflowers: Beyond Asters help participants explore the unfolding autumn beauty of the northeast, while Growing Native Plants from Seeds helps to excite and organize gardeners for the spring. Mt. Cuba Center also offers classes for their renowned Ecological Gardening Certificate program, which provides a comprehensive approach to gardening in harmony with nature. Beginners and experts learn the importance of life in the soil, how to identify and grow native plants, and the fundamentals of eco-friendly horticulture practices.
In addition to botanical and horticultural programming, Mt. Cuba Center strives to inspire and motivate visitors through artistic and creative events. Artists of all media are invited to attend the Autumn Art-In, for a full day of creativity and community in Mt. Cuba Center's gardens. Other art courses include Basket Making with Invasive Plants, Arranging Farmstand Flowers and Edible Ornaments for Birds.
Featured Programs include a Fall Gardening Day with three introductory level workshops; an evening with Claudia West and Thomas Rainer as they discuss Planting in a Post-Wild World: Designing Plant Communities for Resilient Landscapes; and a lecture by renowned entomologist, Douglas Tallamy on Cultivars, Roadside Restorations, and More.
The Fall-Winter Program Guide offers classes through late winter with a sneak peek into spring. On April 2nd Mt. Cuba Center hosts the 2016 Copeland Native Plant Seminar: The Evolving Garden, which investigates new visions of gardens that welcome both people and wildlife. Nationally acclaimed author Ken Druse joins the discussion of how to design and manage gardens to meet climate change and biodiversity challenges.
Mt. Cuba Center is a botanical garden that inspires an appreciation for the beauty and value of native plants and a commitment to protect the environments that sustain them. Over the past 70 years the gardens at Mt. Cuba Center have evolved, transforming fallow cornfields into thriving, ecologically-functional landscapes, thanks to the initiative of Mr. and Mrs. Lammot du Pont Copeland.

Comments
comments