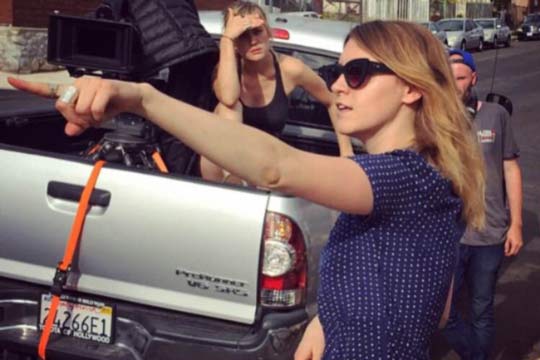 Lizzy Sanford is living the dream of a small town girl trying to make it in the big city. If that's sounds like a Hollywood cliché, it should.
Sanford, who grew up on Brinton's Bridge Road in Pennsbury Township, is now in the Hollywood area making a name for herself in the film industry. The 27-year-old is a freelance producer, director, and writer whose latest project is about to be released to 40 festivals. Among those festivals are Sundance, Toronto and Cannes.
She is also the daughter of Dick Sanford, a former executive well known locally as the founder of Operation Warm, a nonprofit that distributes winter coats to needy children.
The film project is "Palisade," which she refers to as a "farcical, short form character piece."
"Palisade is a comedy about a man named Lloyd who robs a convenience store to help his girlfriend out of debt. To escape the cops, Lloyd breaks into a woman's home, locks himself in her bedroom, and holds her cat hostage. The pair develops an odd friendship through the locked bedroom door," Sanford said in an email interview.
Beneath the plot line is the theme of contrasting forces, something she tends to focus on in her writing.
The story and theme present "a contrast between an alluring incompatible relationship based on falsities and vice, and a truly compatible relationship, which trumps even the most unforgiving of circumstances," she said.
The project also allowed her to explore another goal, that of hiring as many women as possible for the upper end positions. The writer, director, producer, editor, director of photography, Steadicam operator, sound tech, costume designer, hair and makeup artist and graphic designer are all women.
Sanford, who attended the Upland Country Day School, grew up loving movies, theatrics and stories, she said, and moved to Los Angeles four years ago. She's worked as a producer and director and has developed a few screenplays. She feels fortunate to have had several influential mentors who have supported her career and helped develop her craft.
While she's not had any project the general movie-going public would know about, she readily admits that's her goal.
"I've worked on many short films, commercials, art and experimental films. I hope the first feature project I work on will be my own," she said.
There is another goal, one that would bring her hometown to the big screen.
"I hope to capture the beauty of Chadds Ford on film at some point in my career," Sanford said.
For a glimpse into "Palisade," go here.
(Top photo: A courtesy image of Lizzy Sanford directing her film "Palisade.")

Rich Schwartzman has been reporting on events in the greater Chadds Ford area since September 2001 when he became the founding editor of The Chadds Ford Post. In April 2009 he became managing editor of ChaddsFordLive. He is also an award-winning photographer.
Comments
comments