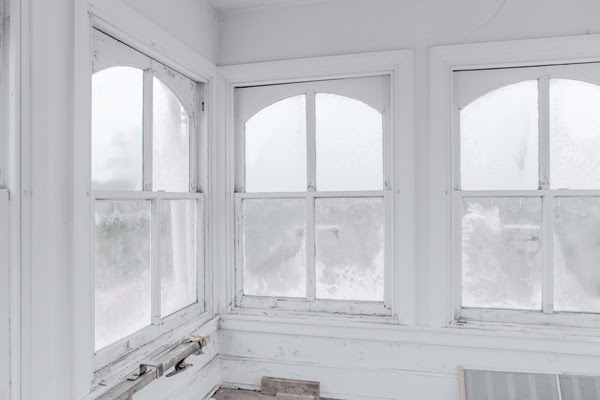 • Two exhibitions of works by Los Angeles-based conceptual artist James Welling, inspired by the work of Andrew Wyeth, will be on view at the Brandywine River Museum of Art starting Aug. 8. The exhibition "Things Beyond Resemblance: James Welling Photographs" presents a selection of 50 photographs from a five-year series centered on the life and work of the painter Andrew Wyeth (1917-2009), exploring the influence of one artist upon another across time and media. Brandywine will also present "Gradients," Welling's first site-specific sculpture installation, at nine locations throughout the Brandywine River Museum of Art's 200-acre campus in Chadds Ford. (Top photo: James Welling (b. 1951) Glass House, 2010, archival inkjet print on rag paper. Paper: 33 x 44". Image: 28 x 42)
• It's the Iron Hill Twilight Race Series. On Saturday, Aug. 8, at 4 p.m., West Chester transforms into a colorful street festival full of fun with lots of free activities for the entire family. The high point will be the professional bicycle race along with block parties, foot races, and kids' games.
• Take a 90-minute train ride on the West Chester Railroad through one of America's oldest railroad routes, traversing the Chester Creek Valley on Sunday, Aug. 9, starting at noon. Pack a lunch and have a picnic at the Glen Mills train station picnic grove before returning to West Chester. Ticketed event. Details at WestChesterRR.net.
• The Kennett Area Senior Center sponsors an afternoon Tea Party on Tuesday, Aug. 11 from 2:30 to 4 p.m. A variety of fine teas and delicacies will be served. The theme of August's Tea Party is "Under the Boardwalk." The cost is $10 for members and $12 for non-members. Call the KASC for reservations at 610-444-4819.
• The Delaware Museum of Natural History is partnering with Artisans' Bank to lower admission prices to just $2 per person during Two Dollar Tuesdays. Visitors are invited to explore the wonders of the natural world at the museum for just $2 on Aug. 11, 18, and 25, courtesy of Artisans' Bank. Admission includes entry to the museum's special exhibit, "Dr. Entomo's Palace of Exotic Wonders," where visitors can explores the truth, myths, and mysteries surrounding some of nature's most curious creatures - many of them alive and on view.
• Parents who want to give their child a unique educational experience and nurture a lifelong love of learning, are invited to attend one of the Kennett Montessori at the YMCA's open houses in August. On Aug. 12 from 9 a.m. until noon, and later that evening from 6 to 8 p.m., as well as Aug. 13 from 9 a.m. through noon, the Kennett Montessori school will host an open house for all parents and their children ages 18 months to 6 years. The Kennett Area Y is located at 101 Race Street in Kennett Square.
• "Myths and Legends" is the final installment of the concert series Magic, Myths, and Mysteries presented by the choirs of the Pennsylvania Academy of Performing Arts. Ariana Women's Choir and Orpheus Men's Choir will take you on a fantastical journey involving fairy tales and folklore from various cultures and time periods. The program will proudly feature the world premiere of "Loki" and the U.S. premiere of "Valkyrie" by Canadian composer Kristopher Fulton, which explore two famous tales in Norse mythology. Performances are Aug. 15, 7:30 p.m., at Christ Community Church in West Chester, and 3 p.m., Aug. 16, at Church of the Good Samaritan in Paoli. Tickets are available here http://paperforming.ticketleap.com
• Meet the Natural Lands Trust staff at the Lenfest Center in Newlin Township at 9:30 a.m. on Sunday, Aug. 23, for "Hike, Paddle, and Popsicles at ChesLen Preserve." A 1.5-mile hike will traverse ChesLen's 1,263-acre property and lead to the canoe launch on the West Branch Brandywine Creek, where Northbrook Canoe Company will provide canoes, equipment, and instruction for the 1.5-hour canoe tour. The trip will end at Northbrook Canoe Company for lunch and popsicles before being shuttled back to the Lenfest Center.  For more details or to register, visit https://www.natlands.org/event/hikepaddlepopsicles-cheslen-2015-0823/.

See Contributors Page https://chaddsfordlive.com/writers/
Comments
comments