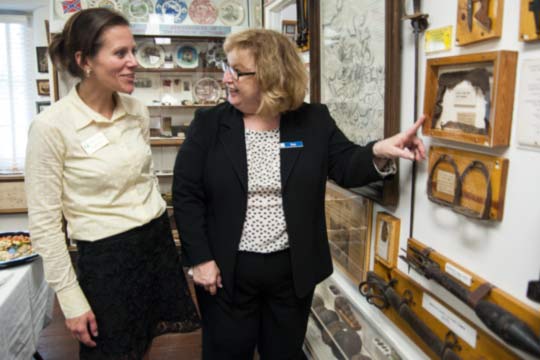 • The Christian Sanderson Museum hosted a Delaware County Chamber of Commerce evening last Thursday. The Sanderson is a new member of the chamber. Chamber President Trish McFarland said business in Delaware County is good. She bases that opinion on the growth of the chamber's membership. (Top photo: A presidential summit. Sue Minarchi, right, president of the Sanderson Museum, shows off parts of the museum's exhibit to Trish McFarland, president of the Delaware County Chamber of Commerce.)
• It's Crafts in the Courtyard of the Brandywine River Museum of Art this weekend, from 9:30 a.m. to 4:30 p.m. on July 18 and 19. This event showcases exceptional works from 13 juried-members of the Chester County Craft Guild, a chapter of the Pennsylvania Guild of Craftsmen. It's free for members and included in museum admission.
• The Kennett Area Senior Center sponsors an afternoon "Sunday Dinner with Friends" on Sunday, July 26 from 1- 3 p.m. Celebrate summer fun "Picnic Style." Come enjoy a delicious home-cooked meal and great, lively music by Joe Allegro. The cost is $10 per person. Everyone is welcome, regardless of age. Please contact the center at 610-444-4819 a week in advance for reservations.
• The Chester County Pops Orchestra's 10th Anniversary Concert will be performed at: Unionville High School, 750 Unionville Road, Kennett Square, PA 19348, July 18, 3 p.m. Featured will be favorites of audiences throughout the 10 years, as well as some new music looking toward the wonderful future into which Maestro Gehring is taking the Chesco Pops: Broadway favorites, music from the Star Wars epic, Pirates of the Caribbean, and Robin Hood: Prince of Thieves, as well as Celebration Fanfare, written especially for this momentous occasion by composer Joe Tracy. Tickets are $15 for adults, $12 for seniors (62+), free for children and students. For more information and for online tickets: go to www.chescopops.org, visit the Chesco Pops on Facebook and Twitter, or email chescopops@gmail.com, or call 610-594-9178.
• Youth ages 8 to 18 are invited to join Chester County 4-H on a cooking adventure. Kids in the Kitchen will be held July 27 through July 30, from 9-11:30 a.m. at the Penn State Extension Chester County 4-H Office. The cost of the program is $35. Participants will start with some kitchen and food safety, and then move into healthy snacks. Day 2 will include food science and developing glutens. Days 3 and 4 will be up to you. Participants will vote on recipes that they would like to create. Participants are encouraged to bring an apron. All other supplies will be provided. Please notify us if your child has any food allergies prior to the class. Registration for Kids in the Kitchen and all Summer Specials are processed through the online registration site of Penn State University.  Please visit our website at www.extension.psu.edu/chester or go directly to the detailed registration page at http://extension.psu.edu/4-h/counties/chester/events/kids-in-the-kitchen For more information, call the Extension Office at 610-696-3500.
• Every Tuesday in August, the Delaware Museum of Natural History is partnering with Artisans Bank to lower admission prices to just $2 per person during Two Dollar Tuesdays. Visitors are invited to explore the wonders of the natural world at the Museum for just $2 on August 4, 11, 18, and 25, courtesy of Artisans' Bank.
• Winterthur Museum, Garden & Library announced that Dr. Marie-Stéphanie Delamaire has joined the museum as associate curator of fine art. Delamaire will be responsible for curating the museum's collection of nearly 5,000 prints, paintings, and sculpture from the 17th, 18th, and 19th centuries and will teach in the University of Delaware's graduate Winterthur Program in American Material Culture. Delamaire earned her doctorate in art history from Columbia University, where she also worked as a lecturer in the Department of Art History and Archaeology.
• At its July meeting, the Pennsylvania State System of Higher Education Board of Governors approved new programs at West Chester and seven other system universities. West Chester's two programs are the doctor of education in education policy, planning, and administration, a 54-credit program that will begin in May and the master of science in clinical mental health counseling, which will start next summer.

See Contributors Page https://chaddsfordlive.com/writers/
Comments
comments