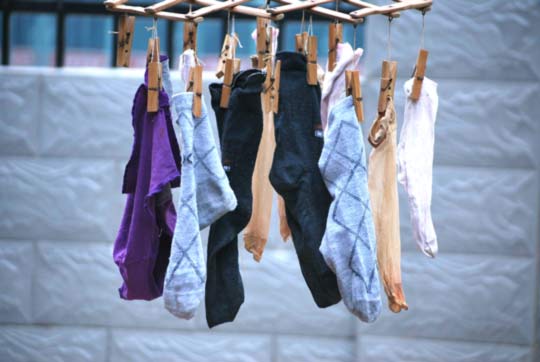 I find it both bewildering and entertaining when so many of my clients' homes are peppered with a random array of socks. They are mostly clean socks. Seldom are they attached to their mate. And they are everywhere. Dozens and dozens of them.
Dealing with socks can be a test of patience. They are useless unless you have a pair so finding the correct mate is a must. However, this is not as simple as it seems it should be. Strays get lost or miss getting into the same laundry load as their partner. Sometimes a sock gets misshapen, leaving us to question its associative legitimacy. Also, their ownership can be easily confused from one family member to the next, making for a challenging puzzle. Then there can be the "wishful thinking" batch of socks lying in wait for a darning day that may never come (looking into that batch can actually be like looking at a timeline of your family's growth and history).
The ensuing frustration caused by these seemingly small and harmless articles of clothing leads to situations involving multiple bags of unmatched socks waiting aimlessly and endlessly for resolution. This is not even to mention the strays that end up between cushions, under beds and between stacks of clutter randomly throughout the house. When left unaddressed, socks invade our homes like unseen bands of ninjas, slipping in through crevices and then, suddenly, you are surrounded.
Here are three quick suggestions to help you keep your feet from getting ahead of you:
Matching up pairs of socks can be relaxing, satisfying and somewhat of a mindless task. Try doing it when you are sitting, watching T.V. at night or give a basket of socks to the kids to match up in exchange for allowing them to watch T.V.
Keep them together from the start. Aunt Noelle used to ask Uncle Ken to safety pin his socks together before putting them in the laundry basket — and he did. Now there are different types of plastic clips for this. Assign a color to each person for even further organization and socks can go from washer to dryer to the right person's drawer every time. http://www.containerstore.com/shop?showDS=true&Ns=default&Ntt=sock+clips
Separate out the worn-out or unmatched socks and make the final decision to keep them as socks or let them go. Keeping them means deciding which ones you will actually darn or find the companion. Letting go can mean that they're ready for the trash or that you recycle them into dust-rags. An old sock worn on your hand can make dusting a breeze and can be thrown away when done, having been used and re-used. Money well spent.
* To contact Annette Reyman for organizing work, professional unpacking, productivity support, gift certificates or speaking engagements call 610- 213-9559 or email her at annette@allrightorganizing.com. Reyman is a member of the National Association of Professional Organizers (NAPO®) and Immediate Past President of its Greater Philadelphia Chapter. Visit her websites at www.allrightorganizing.com and www.allrightmoves.com. Follow All Right Organizing on Facebook and Pinterest.

Comments
comments