Members of the Business and Professional Association met at Galer Estate Wednesday June 17. Spirits were not dampened by a drop or two of rain. Dinner was catered by Chef Anthony.
Many members of the BPA are amateur wine makers. Several have won prizes at the annual competition "The Twisted Vintner"
Wine tasting and dinner were served out of doors overlooking the new deck installed to provide more space for people attending the music and art events held at the winery.  A tour of the winery was given by the winemaker Virginia Mitchell.
Galer Estate is known for its artwork throughout the property. Owner Lele Galer is an artist herself and writes columns for Chadds Ford Live.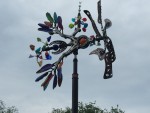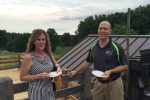 The BPA of Western Delaware County a business networking group that meets monthly.
For more information, clic
k BPA go to their website

Emily Myers has lived and worked in Chadds Ford for over thirty years.  She founded the parent company of Chadds Ford Live, Decision Design Research, Inc., in 1982.  ChaddsFordLive.com represents the confluence of Myers' long time, deep involvement in technology and community. Myers was a founding member of the Chadds Ford Business Association and currently serves on its board of directors.  Her hobbies include bridge, golf, photography and Tai Chi. She lives with her husband, Jim Lebedda, in Chadds Ford Township.
Comments
comments