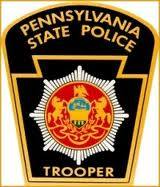 • State police from Troop K, Media barracks, are investigating the theft of a white GMC work van. The victim, a 60-year-old man from Concord Township, reported the theft shortly after 1 p.m. on June 4. Police said the theft happened at an apartment complex on Coventry Lane in Chester Heights.
• Jennifer Hunter, 33, reportedly of Chadds Ford, was arrested for DUI on June 7, just after 2 a.m., according to a report from Pennsylvania State Police. The report said Hunter was initially stopped for running a red light at Naamans Creek and Shavertown roads at 2:02 a.m.
• State police said Branden Leo Henson, 26, of Philadelphia was arrested on DUI and drug possession charges in Concord Township on June 9. The report said Henson was stopped for an equipment violation, but was then found to be under the influence and in possession of drugs. The incident happened 1:33 a.m. on Route 1 at Route 322.
• Francesca Marie Talmo, of New Castle, was arrested for DUI after a May 10 traffic stop on Route 202 in Concord Township, a police report said.
• On May 21, at 2:02 a.m., Jamaal Cooper, 25, of Upper Chichester, was arrested for DUI, according to a police report. Police said the traffic stop happened on Spring Valley Road at Fellowship Drive in Concord Township.
• State police arrested John James Mozzani, 29, of Trainer, for DUI in Chadds Ford Township, according to a police press release. Police said Mozzani was pulled over on Marshall Road at Route 202 on June 7 at 9:19 p.m.
• Police reported a case of criminal mischief at the Painters Crossing Condominiums. Police responded to a report of a damaged lockbox and the theft of a key from a residence. The incident happened sometime between 7 p.m. on June 4 and 3 p.m. on June 7.
• Failure to yield the right of way led to one driver being cited and another injured in an accident on Route 202 at Pyle Road on June 5. Police said Brenda R. Haase, 19, of Upper Chichester, was attempting to make a left turn onto Route 202 South from Pyle Road. Haase, police said, failed to yield to oncoming traffic and struck a car heading north on 202. Clifford C. Conover, 60, of Glen Mills was taken to Crozer Chester Medical Center for evaluation and treatment, the police report said.
• State police said they are following a lead in the case of a wallet stolen from a house on Jesse Court in Concord Township on June 1.
• Driving too fast for conditions is believed to be the cause of a three-vehicle rear-ender accident that injured one motorist. The incident happened at 6:30 p.m. on June 4 on Route 1 at Brinton Lake Road. Police said Esmeralda Montero-Mendoza. 33, of Kennett Square, was cited. Lara Rodrigo, 55, of Avondale, was injured, but police did not know the severity of the injury.
• Police said they cited Gabriel L. Golder, 22, of Aston for making an illegal U-turn on Route 322 in Concord Township. A report said Golder crossed the double yellow line and struck another vehicle, forcing that car off the roadway. No injuries were reported.
• State police are looking for information regarding the theft of some checks from a Chadds Ford business. According to a report, someone illegally entered the unidentified business on Route 202 sometime between noon on April 30 and 11:30 a.m. on June 5 and removed several checks. An attempt to cash the checks was unsuccessful, police said.  Anyone with information is asked to phone Tpr. Joseph A. Traino Jr. at 484-840-1000.
• On Tuesday, May 26, at 7:26 p.m., New Garden Township Police said they responded to the 200 block of Thompson Road for a residential burglary involving the theft of numerous electronic items.  After an investigation, police took two suspects into custody: Omar Ortiz-Escobar, 19, of Kennett Square, and a 17-year-old male from Avondale. Ortiz-Escobar was arraigned and remanded to Chester County Prison after failing to post $25,000 bail; the teen was turned over to juvenile authorities, police said.

See Contributors Page http://chaddsfordlive.com/writers/
Comments
comments