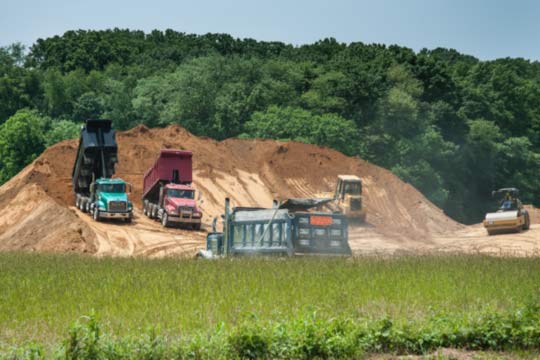 • "Mt. Dirtmore," (see photo above) the big pile of dirt on the Pettinaro property at Route 202 and Ridge Road, is nothing more than a stockpile of dirt, according to one company employee. The dirt is being stored for use at Pettinaro projects where the ground needs to be leveled. The pile came from the Wegmans development. Concord Township supervisors approved the Ridge Road property for a commercial development years ago, but so far there is no anchor store that wants to move in.
• The Kennett Symphony of Chester County continues its 2014 - 2015 season with their summer concert Classical Music Goes to the Movies. The concert will be held at Longwood Garden's Open Air Theatre on Saturday, June 20, at 7 p.m. (rain date June 21). Single ticket prices are $40 in advance, $45 on the day of the concert; students are $10. Ticket price includes the concert, access to visit Longwood Gardens during the day on the day of the concert, and free parking. For complete information visit www.kennettsymphony.org or call the Kennett Symphony at 610 444 6363.
• The Brandywine River Museum of Art is offering an advanced Explorers Art Class: "Making It Real" - for ages 9 and up on June 22 to 26, 10 a.m. to 1 p.m. Experiment with traditional approaches and try new techniques while learning about artists' methods for making objects look realistic. This weeklong program will use the museum's collections and surrounding landscape to inspire young artists as they express themselves with varied media. Teaching artist Jen Polillo leads classes for children and adults throughout the region. Supplies are included. Cost is $100 per child; $75 for Brandywine members. Register online or by phone 610-388-8382.
• Crozer-Keystone Women and Children's Health Services will host a workshop for fathers on June 23 from noon to 4 p.m. at Community Hospital (2600 West 9th Street, Chester) in the Southeast Conference Room located on the 1st floor. This event will educate men on why they matter to their families and helpful information regarding additional workshop opportunities will be provided to those in attendance. For more information on the workshop for fathers, contact Donovan Pratt or Digna Remache at 610-497-7344 or by email at donovan.pratt@crozer.org or digna.remache@crozer.org.
• Restaurant guests can eat at Iron Hill Brewery on June 24 while enjoying art installations by Chester County Art Association member artist, Jeff Schaller. CCAA will get 20 percent of their food purchase. Click here to download and print your coupons. Hand them out to friends and family and make it a celebration. This GIVE 20 is only valid this one day and a coupon is required.
• Trish McFarland, of the Delaware Chamber of Commerce, welcomed business leaders to a networking event "Go West" to highlight the economic growth occurring in Western Delaware County. According to Dominic Pileggi, Concord Township really took off after the Shoppes at Brinton Lake were built. Representatives from newly arrived businesses Axalta and Wegmans were welcomed by the business community. Citadel sponsored the event held at the Wyndham Hotel in Glen Mills.

See Contributors Page http://chaddsfordlive.com/writers/
Comments
comments