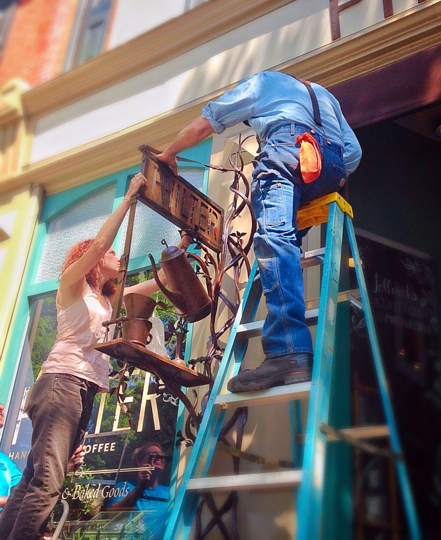 Any casual strollers through Kennett Square in the past weeks would have been stopped in their tracks at the new public art sign for Philter coffee house in downtown Kennett Square located across from Talula's Table. It is a stunningly beautiful combination of welded and forged steel, which combines the artistic talents of local artists Rob Sigafoos and Katee Boyle.
It is whimsical, and lovely, bold and organic, and done in the incredibly time-consuming art form of hand forging. Katee got the metal welding bug after taking a class with renown metal sculptor Stan Smokler, then she met up with metal forger/welder Rob Sigafoos at Galer Estate Winery, who offered to trade lessons in forging with Katee's time helping him to create a 20 foot tall welded and forged spiral staircase that looks like an enchanted tree.
With countless coffee breaks at Philter, Chris Thompson, the owner of Philter, asked them if they would consider creating an art piece for the front of the store. Four months of work and many hundreds of hours later, the Philter art sign was born! "I love it!" exclaims owner Chris Thompson. "Everyone wants to take a picture of it. It's awesome" adds staffer Laura Czarnecki, and Instagram is flooded with praise from all over the world, including this lovely comment "I was so inspired by this piece of art to go do bigger things myself…"
With molten steel pipes and other found steel bits that are hammered and pressed into shapes, dragons, flowers, a coffee press, this piece is an absolute marvel. Congratulations to Rob and Katee! One of the many wonderful things about really great public art is its ability to transform a place…all of a sudden I envision public sculptures, artistic signs, and a hip vibe for the whole town. Kennett really does have it all, just a bit more public art of this caliber and then the world will know what a gem this place is!
Speaking of Kennett Square, Mala Galleria is featuring the work of brother and sister artists Leander and Mo Fontaine. Mala also has an array of really interesting sculptural works, but the big show is about the fascinating work of these talented Fontaine siblings. Mo's work is new to me. She lives in Germany and is exhibiting her colorful, lively acrylic paintings that exhibit another-world-like sensual canvas of textures, shape and color.
In contrast, the bold black and white expressions of her brother, local artist Leander Fontaine, don't lure you in with a dance, they grab you in with a hook. Leander says his paintings are akin to a poem, which focuses and distills a single subject, "uncluttered and pure…composed for tension and rhythm."
He can draw realistic animals that make you want to touch them, or, as in this exhibit, he delivers sweeping painted gestures that capture the heart and soul of the creature. His black and white paintings are brilliant, immediate impressions that are augmented with black and white tones of atmosphere. His paintings remind me of Picasso's bull drawings in their power and expressive stroke, but Leander merges the expressiveness with depth and tone that, like his sister, creates another world for you to get lost in.
After this show at Mala Galleria, which closes at the end of May, he has a solo show at the 22 Gallery in Philadelphia and then, who knows? Check out this fascinating show before it goes away.
West Chester is also full to the brim of great art showing for the month of May. The Art Trust showing at Meridian Bank is in its final days of the Chester County Studio Tour's exhibit --what fun to see the works of so many talented artists from Chester County exhibited all in one place! By the way, The CC Studio Tour 2015 was a huge success - 100 artists showing in 47 studios all over Chester County the weekend of May 16th.
Phenomenal! I exhibited at the incredible ceramic artist Rhoda Kahler's studio, along with Emily Manko, Laura Barton and Kerry Sacco - what a blast! We had hundreds of art loving visitors come by the studio. We couldn't ask for more beautiful weather of a nicer group of people. Jeff Schaller, creator and manager of the Studio Tour, said "Chester County Studio Tour was overwhelmed with the amount of support from the community that came out to celebrate our 2 day event. Many of them bought art for the first time while others filled their walls with more of their favorite artists. It was a win win for artists and art lovers."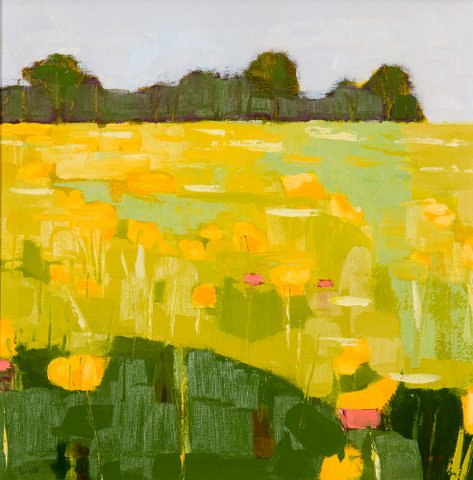 "In The Meadow" by Carol Lesher
The Church Street Gallery in West Chester is currently exhibiting the beautiful contemporary landscapes of local artist Carol Lesher.  I cannot say enough positives about Carol's wonderful artwork. The owners of Church Street Gallery, Carol Giblin and John Supplee have an unerring talent in choosing extraordinarily talented artists to display in a perfect gallery setting. It is a joy to see art in such a modern, clean gallery presentation.
Carol Lesher has a beautiful studio space in Kennett Square in Holly Peter's Building, which is open to visitors. Her deceptively simple application of blocks of color, are "balanced between representation and abstraction…filtered through soft light and flattened color." Her paint strokes are clean and sharp and sure, but the slightly blurred patches make the whole view a bit softened with the sun's heat and light. Most people talk about "light effects" in a painting, but with Carol Lesher I see the "sun effects" of heat and haze. She writes that she "looks to the wider world as a calming force, for inspiration I can draw within, internalize and express onto the canvas." Check out her solo show at Church Street Gallery this month!
Two Chester County Art Groups have some fun things this month. The Chester County Art Association opens their show of Doris Davis-Glackin's gorgeous watercolors this Thursday May 28th from 5-8 pm. Glackin's floral watercolors have brilliant color and are perfectly rendered. If you are a watercolor fan, then you must see this show. Besides this exhibit, Chester County Art Association pretty much closes up its home galleries to concentrate on its very popular student art camps (Science STEM in art, Fashion Design, Animation…a huge list of classes).
The fabulous Oxford Art Alliance will be having its annual Membership fundraiser and show at Galer Estate Vineyard and Winery in Kennett Square for a two day art extravaganza June 13 and 14th. I own the winery, and I am thrilled to host this wonderful organization. Swing by, check out the art, and become a member!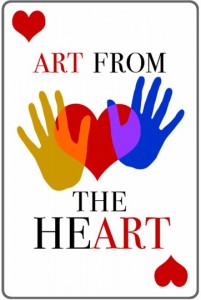 Also, please go to the "Art From the Heart" fundraiser at The Phoenix Village Art Center this weekend, May 30th 6:30-9:30. pm There will be music, food and fun art games and giveaways. The Oxford Art Alliance's "Art in the Vineyard" and the Phoenix Village "Art From The Heart" events are wonderful ways to support the arts, have a great time and meet the most interesting people.

Lele Galer is an artist who has chaired numerous art shows, taught art history and studio art, public art and has chaired, written and taught the Art in Action Art Appreciation series for the UCFD schools for the past 12 years. She worked at the Metropolitan Museum of Art, and wrote for the Associated Press in Rome. She has been dedicated to Art History and art education for most of her adult life. Lele and her husband Brad own Galer Estate Winery in Kennett Square.
Comments
comments