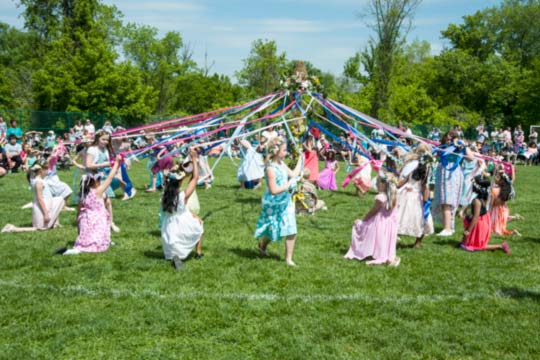 May Fair 2015 was the first May Fair for Shawn Dutkiewicz as principal of Chadds Ford Elementary School. It was also the last May Fair for third-grade teacher Sue Davis and head custodian Bonnie Erbe, both of whom are retiring at the end of this school year.
During his opening remarks, Dutkiewicz noted the irony that all his firsts this year have been the lasts for Erbe and Davis.
For Davis, at least, it's the last May Fair as a teacher, but not the last overall. She said that after 38 years teaching in the district, she and her husband will do some traveling, but "I'll be back for the fair."
Dutkiewicz said he's been impressed with the district and the community throughout his first year at CFES.
"I keep saying the same thing again and again. It's the tradition. Chadds Ford is so rich in tradition and history and with events like this that are 66 years old that reminds us what this community is all about," Dutkiewicz said. "Even though the May Fair has evolved over time, it's still a very special event and it's great to be a part of it."
As for his first year as principal, "I couldn't have asked for better. I love it here. The community is great."
As for the fair itself, traditions were maintained with each grade performing a musical and the third graders having the parachute party and the third-grade girls performing the Maypole dance.

Rich Schwartzman has been reporting on events in the greater Chadds Ford area since September 2001 when he became the founding editor of The Chadds Ford Post. In April 2009 he became managing editor of ChaddsFordLive. He is also an award-winning photographer.
Comments
comments