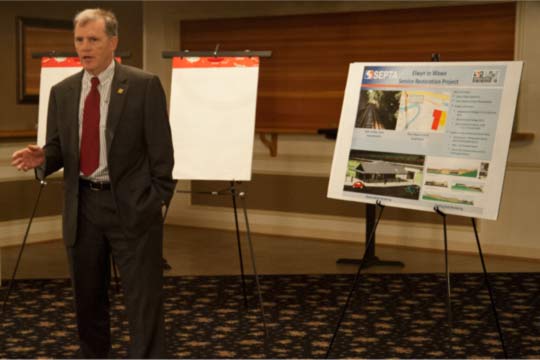 Commuter rail service is going to get a boost within the next few years. SEPTA will be renovating and re-opening its Wawa station in Middletown Township, making it easier for commuters to use public transportation between Philadelphia and Western Delaware County and Southern Chester County.
SEPTA representatives spoke to a variety of stakeholders during a breakfast meeting at the Red Clay Room in Kennett Square on Wednesday, April 13. The event was sponsored by Chester County 2020.
According to George Asimos, president of Chester County 2020, the re-opening of the station is significant for both counties in the region.
"There are some very intense nodes of transportation, some places where there are people who really want to get somewhere and are frustrated with the lack of public transportation, especially employers who need to get employees from where they can afford to live into Southern Chester County. I think it would make a huge difference," Asimos said.
He also said area college students from Lincoln University and New Bolton Center could benefit, too.
"While ordinary citizens might not be thinking how this could change their lives, we saw businesses and institutions are realizing the potential," he said.
An audience member commented, "Local governments should not underestimate the reach this can have on the demand for more public transportation and the possible development of land for both residential and commercial use."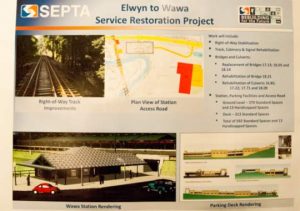 The service restoration project of the Wawa station "is going to be a reality," said Bob Lund, the assistant general manager for SEPTA's Engineering, Maintenance and Construction Division.
Lund said the design for the renovations has been on the books since 2008, but a poor economy delayed the project. Actual work should start in the next two years and be finished by late 2020.
Construction for the infrastructure improvements, including bridge replacements and power line upgrades, will begin in 2017. Work on the station itself will start a year later.
The finished project calls for a 600-car parking facility and the new building, with highway access from Route 1 near the former Franklin Mint property, which will be fully compliant with the Americans With Disabilities Act, Lund added.
"It's a huge infrastructure project," Lund said. "You have to look at it as almost rebuilding the entire infrastructure to get to Wawa…But it's a reality now, and it is moving forward."
Getting the Wawa station functional again would only bring back some of the service that was lost more than 30 years ago when the station was shut down. Service from Wawa to West Chester also stopped.
"There's a lot of interest in the borough about restoring service all the way to West Chester, but that's for future discussions," he said.
The $80 million project will re-open a three-mile stretch of currently unused rails from Middletown to the Elwyn station outside of Media.
Byron Comati, SEPTA's director of strategic planning, said the push to reopen the station is based on significant ridership growth — from 25 to 30 percent — during the last seven to 10 years. Much of that is from Southern Chester County.
During a question-and-answer period after the presentation, one person asked about bus access to the train station.
Currently, the only regular bus service is the 111 Line, running from 69th Street in Upper Darby to Chadds Ford. Nothing else is planned at this time because there's nothing in SEPTA's budget for added bus service.
However, Lund said there would be provisions for private shuttle service.
While there were no ready answers, other people asked about expanded taxi and ride-share services.
Another person suggested bringing Delaware state transportation people into the conversation.
Randy Waltermyer from the Chester County Planning Commission responded by saying that a Chester County/New Castle County transportation study is already planned for later this summer.
(Top photo: Bob Lund, the assistant general manager for SEPTA's Engineering, Maintenance and Construction Division briefs regional stakeholders on SEPTA's plan to re-open the Wawa train station. The project is expected to be finished by the end of 2020.)

Rich Schwartzman has been reporting on events in the greater Chadds Ford area since September 2001 when he became the founding editor of The Chadds Ford Post. In April 2009 he became managing editor of ChaddsFordLive. He is also an award-winning photographer.
Comments
comments