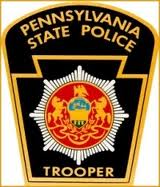 • Police are investigating a report of a missing person. Police said Erica Marie Smith, 26, of Kennett Square, was reported missing at 11:19 p.m. on April 22.
• An 81-year-old from West Grove woman was arrested for driving under the influence of a controlled substance on April 11. Police said Catherine Prescott was stopped after she ran a red light on Route 1 at Brinton Lake Road at 11:39 p.m.
• Amanda Rzaca, 27, of Garnet Valley, was accused of marijuana possession following a traffic stop at the Naamans Creek Road Wawa in Concord Township on April 1. Rzaca was a passenger in a vehicle stopped for traffic violations.
• State police from the Avondale barracks, Troop J, reported six cases of identity theft involving fraudulent tax filings. Of the six, two involved victims in Pennsbury Township, two in Kennett Township and one each in Upper Oxford and Franklin townships.
• One driver was injured and another cited in connection with an April 18 accident on Unionville Road at East Locust Lane in East Marlborough Township. Police said Thomas Keating, 63, was cited for an improper left-hand turn when turned left onto East Locust from southbound Route 82 (Unionville Road) and struck an oncoming car heading north on 82. That second car then hit a utility pole, police said.
• Falyn Michelle Rasmussen, of Wilmington, was arrested for DUI following a traffic stop on Route 1 at Pennsbury Way in Pennsbury Township on April 24, according to a police report.
• No injuries were reported, but one driver was cited for following too closely following an April 9 rear-ender in East Marlborough Township. A policed report said Marie A. Daddario, 31, of West Grove, was traveling south on Route 82 when she failed to stop in time and struck another vehicle that was stopped for a traffic light near East Locust Lane.
• On Monday, April 13, at 7:27 p.m., New Garden Township Police observed a vehicle in the 900 block of Newark Road almost collide with three other vehicles. Police said they conducted a traffic stop and arrested Jose Gutierrez-Quintino, 20, of Kennett Square, after smelling marijuana and locating it as well as paraphernalia is his vehicle.
See Contributors Page http://chaddsfordlive.com/writers/
Comments
comments