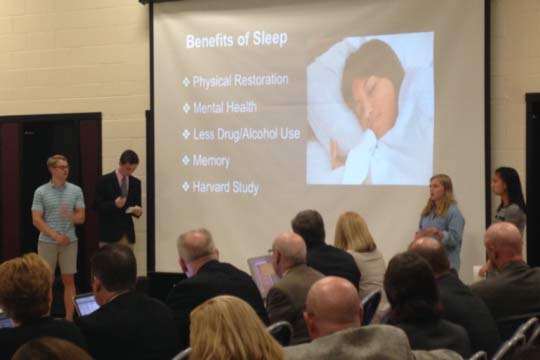 Most people know that teenagers like to sleep in, and it seems that allowing for that, up to a point, is a good idea for high school students.
Unionville-Chadds Ford School Board Director Jeff Hellrung began making that case during the April 20 school board meeting at Hillendale Elementary School.
He said scientific studies have shown teen students function better and more safely if they can get a little extra sleep in the morning. To that end, he said, a group of four students from Unionville High School — Matthew Daniels, Sami Seidenberger, Alice Liu and Gabe Masters — gave a presentation to the Chester County Intermediate Unit on April 15 regarding a later start time for high school classes.
According to Hellrung, Intermediate Unit Director Joe O'Brien was so impressed with the presentation that he decided the UHS students should get involved with a broader IU student council to conduct a two-phase study on the subject.
Hellrung said O'Brien went to the council and asked them what they thought of the idea and "the kids went bananas," saying the study was long overdue.
In a telephone interview after the meeting, Hellrung said the first phase includes researching the scientific literature on the subject, then making a formal presentation. The IU will provide training to the group on how to work together and reach consensus, how to research, and how to make a presentation.
If, after that presentation, the IU board thinks the idea has merit and warrants further study, then a second — more difficult — phase would begin. That second phase would explore the practical application of having high school days begin an hour later.
The question to be answered is: "How can we make this happen in a way that meets the constraints that we're working under," Hellrung said.
Those constraints include assessing transportation requirements — because more buses and drivers would be needed — factoring in high school scheduling of classes, after-school activities, such as sports and at-home issues such as child care.
There are situations, Hellrung said, in which parents want their older children home from school first so they can look after the younger siblings until parents get home from work.
In other cases, there could be pushback from coaches and athletic directors because team scheduling would be affected.
"That will be the bulk of the work," Hellrung said. "It should be completed before the end of the next school year. They're going to look into this intensively and very professionally."
Assuming the students can figure out how to make the later start time work within the constraints, they would then make a pitch to their individual school boards for a later start time.
Hellrung said the ideal situation would be for all the districts in the county to agree, but each district may act on its own.
He referenced a National Sleep Foundation report that said teens need nine to 10 hours of sleep each night, yet they only get six to seven. He also mentioned a study from the American Academy of Pediatrics saying high schools should not begin before 8:30 am. The Unionville High School day begins at 7:25 a.m.
Hellrung said the studies also indicate it's a matter of hormones: Teenagers don't produce the necessary amount of melatonin needed for sleep until later in the evening, so going to bed earlier wouldn't help.
"The kids just can't fall asleep. They're just too wired up physically. So it's just too hard for them to get to bed earlier even if they want to," he said. "Then they have to get up early, so they're hitting the school sleep-deprived."
He said sleep deprivation affects more than just academics. Mental and physical reaction times slow down, the students' emotional state isn't what it should be, and more traffic accidents occur because they are tired.
"People who have made these changes are seeing improvements in driver safety," Hellrung said. "If you combine [students' driving] inexperience with their sleep deprivation, you've got a real powder keg. One of the things the kids were reporting to the IU board were statistics on the accident rate for teenage drivers might be as little as half to a comparable district that didn't make the change."
Hellrung added anecdotally that students themselves have noticed a difference between students who have a first-period class and those that have a first-period study hall. Those with study hall can actually come to school a period later and they seem more jovial, awake and alert than those who attended class during that first period.
(UHS students making the presentation to the Chester County Intermediate Unit are, from left, Gabe Masters, Matthew Daniels, Sami Seidenberger and Alice Liu. Photo courtesy of School Board Director Carolyn Daniels.)

Rich Schwartzman has been reporting on events in the greater Chadds Ford area since September 2001 when he became the founding editor of The Chadds Ford Post. In April 2009 he became managing editor of ChaddsFordLive. He is also an award-winning photographer.
Comments
comments