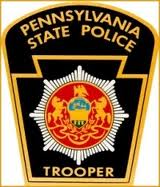 • State police said Mark A. Shasteen, 60, of West Chester, was cited after a two-vehicle accident at the intersection of Lenape Unionville Road at Locust Grove Road. No injuries were reported. According to the police report, Shasteen was driving north on Locust Grove, stopped at the stop sign, but failed to yield to the other vehicle traveling east on Lenape Unionville Road. The accident happened 1:32 p.m. on April 18.
• Investigation continues into a hit and run accident with injuries that happened on Route 1 at Cheyney Road shortly after 11 p.m. on April 2. A report said a 1995 green Ford pickup truck heading south on Route 1 ran the red light and struck a 2005 black Jeep. The driver and two passengers of the Jeep were transported to Crozer Chester Medical Center. The pickup driver fled on foot.
• Police are investigating an April 17 burglary at Sache Boutique on Route 202. A police report said someone broke into the shop at 3:35 a.m. by smashing through the front glass door. The unknown suspect removed an unknown amount of women's clothing and accessories and then fled through a rear door.
• Janto Hadi, 53, of Alhambra, Calif., was cited following a traffic accident at the rear entrance to Whole Foods on Route 202, police said. According to the report, Hadi was trying to exit through the rear driveway usually used as an entrance only. He crossed into the path of a car entering the shopping center. No injuries were reported in the April 17 incident.
• A 23-year-old from Philadelphia was arrested for DUI following a traffic stop on Route 322 at Evergreen Drive on April 12. Police said Michael McGroaty, was determined to be driving under the influence of a controlled substance when he was stopped for traffic violations at 3:02 a.m.
• One person was injured in a head-on crash on Smithbridge Road on April 14. A police report said Thomas J. Konetski Jr., 62, of Glen Mills, was heading east on Smithbridge at 6:22 a.m. when he tried to pass a trash truck. He crossed into the westbound lane and struck an on-coming vehicle, police said. The other driver was injured, but the report said the severity of the injury was unknown.
• A two-car crash at Route 926 and N. Mill Road in East Marlborough Township injured two people, but both refused medical treatment. According to a police report, one vehicle was heading south on N. Mill Road and the other was traveling west on Route 926. Both vehicles entered the intersection and one struck the other in the side. Both vehicles were disabled in the April 10 crash.
• Someone stole copper wire after cutting a copper cable and a fiber optic cable at Route 1 and Waverly Road in east Marlborough Township on April 13. Police said the unknown suspect, or suspects were canvassing utility poles for copper.
• Steven James Bradley, 54, of West Chester, was charged with DUI and drug possession on April 10, according to state police. A report said Bradley had first been pulled over during a traffic stop on Village Drive at Route 1 in East Marlborough Township.
• A Chadds Ford resident reported to Kennett Square Police that while in the borough on Friday, April 10, between 10 a.m. and 1:30 p.m., someone stole several of the resident's credit cards, which were used to make over $2,900 in purchases. Police said an investigation is continuing.
• Kennett Square Police said they are also investigating a report that sometime overnight on Saturday, April 4, the air was let out of all four tires on a vehicle parked in a lot off of the 100 block of West Linden Street.
• State police from the Embreeville barracks said sometime between Monday, April 13 at noon and Tuesday, April 14, at 9 a.m., someone cut Verizon's fiber optic cables at the intersection of Apple Grove and Hilltop View roads in Newlin Township. Anyone with information is asked to call the barracks at 610-486-6280.
• Embreeville police are also seeking information as they investigate a tax return that was filed fraudulently, using the Social Security number of a Newlin Township resident.
See Contributors Page http://chaddsfordlive.com/writers/
Comments
comments