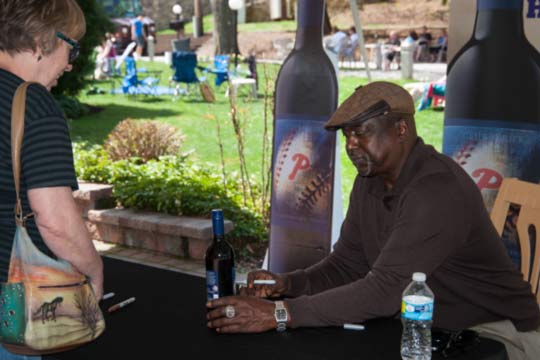 • Top photo: Former Phillies outfielder and TV color analyst Gary "Sarge" Matthews signs bottles of Phillies Wine at the Chaddsford Winery on April 18.
• The YMCA of Greater Brandywine is holding a free community event to help kids and families keep their bodies and minds active on Saturday, April 25. YMCA's Healthy Kids Day is the Y's national initiative to improve families' health and wellbeing. This year's festivities will feature moon bounces, free T-shirts, scavenger hunts, obstacle courses, face painting, dance contests, healthy snacks, sports contests, family games and more. The event runs from 11 a.m. to 2 p.m. at six locations: the YMCA branches in Coatesville, Jennersville YMCA will be celebrating in downtown Oxford on 3rd Street, the Kennett YMCA in downtown Kennett Square on Broad Street between Cypress and Mulberry Streets, both the West Chester YMCA and the Oscar Lasko Youth Program Center will welcome guests at the East Goshen Park, Veteran's Pavilion, the Lionville Community YMCA and the Upper Main Line YMCA will both host their festivities at each of their branches.
• Just a reminder for everyone who likes to treasure hunt – the Pennsbury Township Yard Sale is going to be this Saturday, April 25th from 9 a.m. to 2 p.m. in the township park behind the township building.
• The Chester County SPCA will hold its 28th annual Walk for Paws on Sunday, April 26, at Hibernia Park in Coatesville. There will be a 5K run, face-painting, music, food, a police K-9 demonstration, and Pooch Smooch booth. Registration for the 5K begins at 7 a.m. and the race begins at 8. Registration for the mile-long walk and festival begins at 9 a.m. and the walk begins at 10. Walk for Paws will end at 1 p.m. For more information, go to www.ccspca.org, to register in advance, go to www.ccspca.org/walk.
• The Glen Mills–Thornbury Rotary is holding a Designer Bag Bingo at Penn Oaks Country Club on May 3. Doors open at noon; the game starts at 1 p.m. Cost is $45 per ticket. Get 10 Bingo cards. Extra cards are $5 each. There will also be a cash bar and hors d'oeuvres. Proceeds fund local charities. Buy tickets online at http://www.GMTRotary.org.
• The Darlington Arts Center is hosting its annual fundraiser, Arts Salute to Spring, a cocktail reception with live and silent auctions on Sunday, April 26, at Penn Oaks Golf Club from 2 to 5 p.m. Attendees will enjoy hors d'oeuvres, wine, and performances by Brandywine Jazz R&B, featuring event honoree Geri Smith. An auction will include items ranging from sports tickets to original artwork. This year's event will also feature a raffle for an iPad mini, a wheelbarrow full of cheer, and restaurant gift certificates. Purchase single tickets for $20 or six for $100 at www.darlingtonarts.org/asts or by calling 610-358-3632.
• Music on the Brandywine continues on Thursday, April 30, at 7:30 p.m. with a performance by mezzo-soprano Chrystal E. Williams, who has won numerous prestigious international awards and holds a master's degree from the Yale School of Music and a bachelor's degree from Carnegie Mellon University. Arrive early to tour the Brandywine River Museum (galleries open at 6 p.m.) and enjoy small plates and full bar (available for purchase). Costs are $12, members; $15, non-members, and $8, students, through April 27. Prices increase to $20, members; $25, non-members, and $10, students after April 27. Tickets are available online, by phone at 610-388-8326, or at the museum.
• The Unionville High School Rowing Club is holding a fund-raiser, The Heart of Rowing, on April 30, from 6-9 p.m. at the Galer Estate Vineyard and Winery on Folly Hill Road. The goal is to raise $10,000 for an eight-seat boat. There will be wine tasting, good food, good music, silent auction and raffle, and getting to know our rowing families. Cost is $50 per person/$60 at the door. Visit https://www.eventbrite.com/e/heart-of-rowing-tickets-16577829735?ref=enivtefor001&invite=NzgzMDY3Ny9tYXJ5ZTY4OTlAYW9sLmNvbS8w&utm_source=eb_email&utm_medium=email&utm_campaign=inviteformalv2&ref=enivtefor001&utm_term=attend for tickets.
• On May 6, Chester County Hospital will be hosting an event for women at the Gables on Route 1 in Pennsbury Township.  The program — Healthy You! Ladies Night Out — features renowned obstetric gynecologist, Dr. Robert Giuntoli and his nurse navigator and focuses on early prevention and treatment of women's cancers. Do you know your risk? Bring your mother, your sister, or friend to an event aimed at helping you answer this important question. To register or for more information, call 610.738.2300 or visit ChesterCountyHospital.org/wellness
• In an age of dirt roads and wagon rutted trails, The Philadelphia and Baltimore Central Railroad delivered milk, milled grain, mushrooms, passengers and just about everything else to Philadelphia and Baltimore and ran through the very heart of Concord Township. Using historic photos and narration, Presenters Ed Keane and Al Eelman of the Concord Township Historical Society will bring local railroad history to life at 7 p.m. on May 7. "All Aboard!" is part of Newlin Grist Mill's Faces of Newlin - Talks at the Mill series. Pre-registration requested; $2 suggested donation. For more information, contact us at info@newlingristmill.org or 610-459-2359.
• The Teen Driver Safety team at The Children's Hospital of Philadelphia is hosting a free webinar on Tuesday, May 12, from 1 to 2 p.m. for stakeholders interested in advocating for stronger Graduated Driver Licensing (GDL) provisions in their state -- including a GDL decal. The webinar will provide a review of recent CHOP research showing a sustained positive association between New Jersey's decal provision and intermediate-licensed driver crash rates as well answers to legislators' common questions regarding GDL decals using an evidence-based fact sheet. To register or receive more information, visit https://cirpatchop.webex.com/mw0307l/mywebex/default.do?nomenu=true&siteurl=cirpatchop&service=6&rnd=0.4597190682786041&main_url=https%3A%2F%2Fcirpatchop.webex.com%2Fec0606l%2Feventcenter%2Fevent%2FeventAction.do%3FtheAction%3Ddetail%26confViewID%3D4057494730%26%26EMK%3D4832534b00000002f589424b1f491e74fd4246b5b2f02bb862db969732cdc0dedeaf1a3d8158c9d3%26%26%26siteurl%3Dcirpatchop

See Contributors Page https://chaddsfordlive.com/writers/
Comments
comments