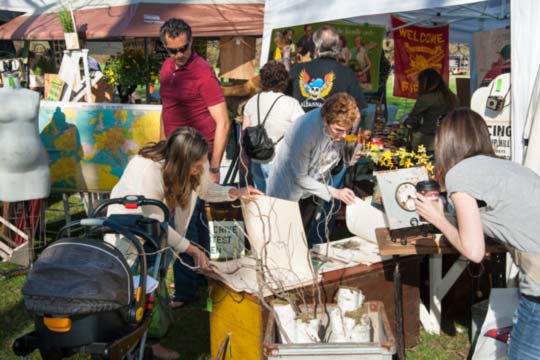 Sunshine and warm temperatures accompanied the first ever Barn Market held at the Chadds Ford Historical Society on April 18.
CFHS Board President Kendal Reynolds said the 39 vendors — mostly antiques' dealers — paid $125 each for a booth. Hundreds of visitors came through the society's grounds to browse and buy.
Reynolds said the purpose of the Barn Market, in addition to being a fund-raiser, was to start having a spring event at the CFHS grounds.
"It's when we start to open up our community and we really wanted to bring a market conducive to antiques and repurposing wood furnishings. We partnered with Brandywine View Antiques because Lisa [Vonderstuck, owner of Brandywine View Antiques] had a market, but outgrew her space. So, we met with Lisa and talked about having an expanded space, " Reynolds said.
During discussions, they developed a list of possible vendors that hadn't shown in the area before.
"We wanted vendors who are fresh to our market and we're looking forward to repeating this every spring," Reynolds added.
She also said the society is looking to having spring, summer and fall events.
Vonderstuck said she appreciated the society approaching her because barn markets are important to her.
"I used to do barn markets at the shop [on Route 1 in Pennsbury Township], but parking became horrendous," Vonderstuck said. "So [Kendal] asked me if I'd be interested in moving it down here and creating a new event, here, with her."
Vonderstuck described barn markets as being a bunch of vendors coming together for sales. Many of the items they sell, they get from barns, she said.

Rich Schwartzman has been reporting on events in the greater Chadds Ford area since September 2001 when he became the founding editor of The Chadds Ford Post. In April 2009 he became managing editor of ChaddsFordLive. He is also an award-winning photographer.
Comments
comments