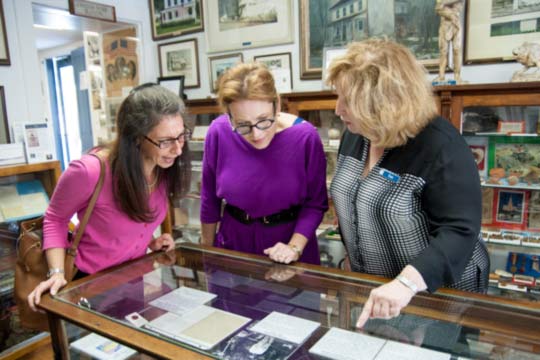 In commemoration of the 150th anniversary of the assassination of President Abraham Lincoln, the Christian Sanderson Museum in Chadds Ford is running an exhibit dedicated to the country's 16th president.
The "Four Score and Seven Years Ago" exhibit shows off a number of items, including a piece of the handkerchief used as a bandage to dress Lincoln's fatal head wound, a piece of cloth from the inside of his coffin, a penny believed to have been run over by the funeral train as it went through Philadelphia, as well as a piece of fabric from Confederate President Jefferson Davis' chair in Richmond, Va., the capital of the confederacy.
In addition, there's correspondence between Chris Sanderson and former U.S. Sen. Benjamin F. Caldwell, of Illinois, who knew Lincoln before being nominated for the presidency. Caldwell lived across the street from Lincoln.
According to museum curator Chuck Ulmann, Sanderson and Caldwell met when Caldwell came to Chadds Ford in 1913. The former senator later sent Lincoln artifacts to Sanderson who, in return, sent artifacts from the Battles of Brandywine and Gettysburg to Caldwell.
"[Caldwell] was the first, and is the only, person we're aware of that Chris ever met who actually knew Lincoln," Ulmann said. "Chris was always collecting, so it was fair game for him to swap back and forth for different items."
He added that the two kept their correspondence going for about 15 years.
Also on display is a copy of a letter from a U.S. soldier involved in the capture and killing of Lincoln's assassin, John Wilkes Booth and a photo of former slave Nate Simms who helped Booth get on his horse after fleeing Ford's Theater. Simms also told Union soldiers the direction Booth rode in his attempt to further avoid capture.
Ulmann said Sanderson had a fascination with the office of the presidency and attended every inauguration from Theodore Roosevelt's to Lyndon Johnson's.
The curator, and others have speculated that Sanderson's habit of collecting all things historic — and especially things connected to Lincoln — may have come from a story told by his mother, Hannah.
As the story goes, on April 15, 1865, Hanna Carmack, then a young girl, was home with an illness when her father came into the house agitated and announced to the family that Lincoln was dead.
Years later, on the 75th anniversary of the assassination, she had a photo taken demonstrating her position on a sofa when she heard the news.
(The official time of death for Lincoln is 7:22 a.m., April 15.)
The exhibit runs through the end of July.
On Saturday, May 17, at 2 and 3 p.m., the Sanderson will host an outdoor music event in tribute to Sanderson's old band, The Pocopson Valley Boys. On Sept. 17, the museum launches an exhibit focusing on WWI.
 (Main photo: Sue Minnarchi, president of the Sanderson Museum, at far right, explains some of the Lincoln artifacts on display to Jennifer Duffy, left and and Cher Finnan, center.)

Rich Schwartzman has been reporting on events in the greater Chadds Ford area since September 2001 when he became the founding editor of The Chadds Ford Post. In April 2009 he became managing editor of ChaddsFordLive. He is also an award-winning photographer.
Comments
comments