Looking for that one-of-a-kind antique or perfect piece of architectural salvage? The First Annual Massive Barn Market promises to offer those and more on Saturday, April 18, from 9 a.m. to 5 p.m. at the Chadds Ford Historical Society.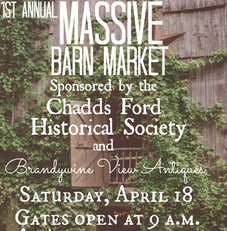 The inaugural event came about after the society approached Lisa Vonderstuck, the owner of Brandywine View Antiques on Route 1 in Chadds Ford. Vonderstuck said she had been hosting barn markets – which she described as a pop-up shop with vendors and food trucks – at her store a couple times a year for some time.
The markets became so popular, she said, that parking became a problem. So when the Chadds Ford Historical Society expressed interest in partnering with her for a new event on its grounds, Vonderstuck said she was thrilled. "I eat, sleep and drink antiques!" she said.
Vonderstuck said in less then three months, they combined efforts to "put together a fantastic lineup of vendors and food trucks." Food purveyors will include the Meat House, Farmers Road Drive Thru, Dia Doce Cupcakes and Southbound BBQ.
She explained that the event would not resemble a flea market with kids' clothes or toys. Quality antiques, vintage, country, primitive, handmade, salvage, reclaimed, cool tools, garden, art and more will be available, she said.
One difference from other pop-up shops is that a rope-cutting will signal the beginning of the sale. She said the more than 30 vendors would not be permitted to buy from one another until the 9 a.m. start in order to ensure a level playing field for all prospective patrons.
For more information, visit www.Brandywineview.com or www.chaddsfordhistory.org.

See Contributors Page http://chaddsfordlive.com/writers/
Comments
comments