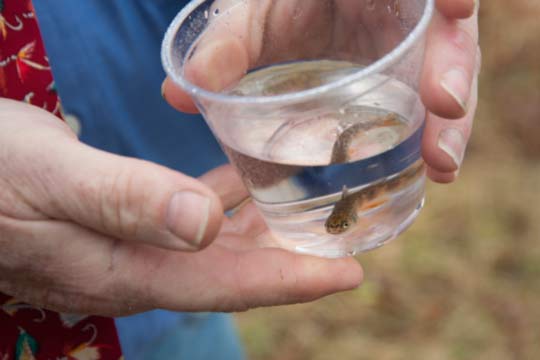 It might have been a raw, chilly and drizzly morning, but the fish didn't care. Neither did the students.
For the second year in a row, and under similar weather conditions as in 2014, students at Pocopson Elementary School took part in a trout release program on Friday, April 10. Fifth-graders released about 50 fingerling brook trout into the Pocopson Creek along Brinton's Bridge Road.
The program, Trout in the Classroom, is a nationwide program. Teacher Ryan Stephens said the idea behind TIC is to teach students about stream health. It's not a fish-stocking program.
Fewer fingerlings were released this year, Stephens said, because there were problems with the first batch of eggs and the school needed to have replacements shipped. Pocopson released about 150 fish last year.
Eggs are placed in tanks when they arrive at the school in November. Students monitor the temperature, acidity, ammonia, nitrate and nitrite levels of the water from initial habitat for the eggs through hatching and to the time the fish are large enough to be released, about a five-month process, Stephens said.
Fish are released when they're about two inches long. Barring disease, water problems or becoming prey, the fingerlings can reach a length of about 17 inches in a three-year period, according to Dave Macaleer, from the Valley Forge chapter of Trout Unlimited.
Students also learn about the relationship between the trout, insects and the health of the stream.
"Without insects, the fish can't survive," Stephens said. "And if the fish survive, we know it's a healthy stream."
He also said the fingerlings don't make their way to the Brandywine Creek, which is a good thing for the fish being released. Stephens said the young trout would not survive in the Brandywine because they'd become food for the bass.
Brook trout — Salvelinus fontinalis — are the state fish of the Pennsylvania and the program in the commonwealth is made possible through a partnership between Pennsylvania Council of Trout Unlimited and the Pennsylvania Fish and Boat Commission. This partnership provides curriculum resources, workshops for teachers and program partners, technical support, brook trout eggs and food, and grants.
Macaleer said Pocopson Elementary in one of eight schools in Chester County that take part in the program.

Rich Schwartzman has been reporting on events in the greater Chadds Ford area since September 2001 when he became the founding editor of The Chadds Ford Post. In April 2009 he became managing editor of ChaddsFordLive. He is also an award-winning photographer.
Comments
comments