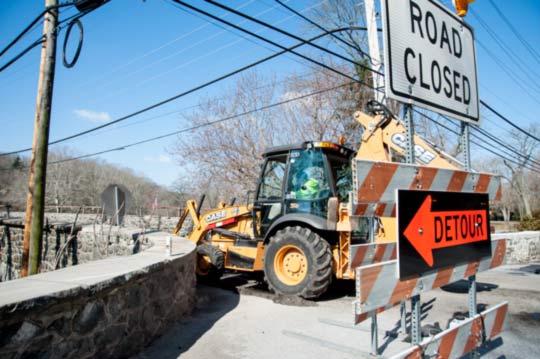 • The Route 52 Bridge, also known as the Lenape Bridge, spanning the Brandywine Creek between Pocopson and Birmingham Townships is closed for resurfacing. According to PennDOT, the closure will run through Friday, April 3. (See photo)
• The Chadds Ford Historical Society now has new hours. As of April 1, it will be open from 10 a.m. to 4:30 p.m. Wednesday through Saturday and 1 to 4:30 p.m. on Sundays.
• The Penn State Chester County Master Gardeners Hotline will be open starting April 1 for the 2015 gardening season. You can call the Penn State Extension Office at 610-696-3500 with your garden-related questions on weekdays from 9 a.m. to 4 p.m. Chester County Master Gardeners answer questions on a variety of topics including growing vegetables, fruits, ornamentals, native plants, invasive, turf grass, plant identification, pruning, trees, and insect and disease problems. Advice encourages the use of integrated pest management and environmentally sound practices. You can also email your questions and photos detailing your issues to Chestermg@hotmail.com.
• The Sanderson Museum opens a new exhibit on President Abraham Lincoln on Thursday, April 16. It runs through July 31. Sanderson President Sue Minarchi said the exhibit will focus on the assassination, but there are many other artifacts related to Lincoln and the Civil War on display.
• On Thursday, April 16, from 6 to 7:30 p.m., Uptown! Entertainment Alliance will present vocalist Rhenda Fearrington as part of its Jazz Cocktail House series. Fearrington is true to her roots, which include performing on the international stage as a backup singer for Roberta Flack. She is also an educator, writer, columnist, and reviewer of the Philadelphia Jazz scene. Uptown's casual, popular Jazz Cocktail Hours are held from 6:30 to 7:30 p.m. at the Ballroom at Westside, 430 Hannum Avenue in West Chester. Tickets are $15 and may be purchased at www.uptownwestchester.org.
• Crozer-Keystone Health System will offer a comprehensive health-screening event on Saturday, April 25, from 8:15 to 11:30 a.m. at the Crozer Medical Plaza and Crozer-Keystone Cancer Center at Brinton Lake, 500 Evergreen Drive in Glen Mills. Registration is at 8:15 a.m. Screenings begin at 9 a.m. and include glucose/cholesterol (fasting required) checks, prostate screening and PSA, breast exams, sleep disorder screenings and more. To register, call Debra Simon, director of Healthline Services, at (610) 284-8158 or e-mail debra.simon@crozer.org For more information about Crozer Brinton Lake, visit www.crozeratthelake.org.
• The Brandywine Conservancy and Museum of Art want people to "Go with the Flow," on Thursday, April 16 at 7 p.m. Learn about easy and practical methods to reduce erosion and improve the health and ecological functioning of the stream on your property. Join us as Dr. Melinda Daniels, Associate Scientist at Stroud Water Research Center, speaks about stream restoration. Daniels' expertise includes river restoration, watershed management and stream ecosystem science. Her research topics include our impact on rivers, improving management and restoration of rivers, how people perceive river environments, and the process of communicating science to river managers and stakeholders. Free. Advanced registration required. Please call 610-388-8386 or send an email to loldsschmidt@brandywine.org. There will be wine and cheese at 6 p.m.
• Get involved in one of the largest tree-planting parties that Natural Lands Trust has ever hosted on April 25 from 9 a.m. to noon. The goal is to add more than 650 trees at the 1,263-acre ChesLen Preserve in Newlin Township. This large-scale tree planting is part of an important riparian buffer project in the southwest area of the preserve. Preserving riparian buffers (the land around waterways) is one of the best ways to protect and improve creek water quality. No experience is necessary; instruction, tools, and snacks will be provided. Suitable for ages 8 and up. The event is free, but pre-registration is required at https://www.natlands.org/event/volunteer-treevitalize-cheslen-2015-04/.
• Winterthur Museum, Garden & Library has announced the addition of Art Needlepoint to its exclusive Winterthur Licensed Products Program.  Based in Canton, Massachusetts, Art Needlepoint produces intricately designed needlepoint canvases for every taste and skill level. Winterthur's founder, Henry Francis du Pont (1880-1969) loved textiles for their colors, patterns, and textures and purchased many for the museum. Art Needlepoint's first collection for Winterthur includes nearly 50 designs, which can be purchased online at www.artneedlepoint.com or www.winterthurstore.org.
Join Chester County Futures on Tuesday, May 12, at noon for its annual Women's Empowerment Luncheon. The keynote speaker will be Dom Streater, a native Philadelphia fashion designer and winner of Project Runway Season 12. The fundraiser will be held at People's Light and Theatre Company in Malvern. To register, visit http://ccfutures.kintera.org/faf/home/default.asp?ievent=1130665#sthash.OCxfmQxh.dpuf

See Contributors Page https://chaddsfordlive.com/writers/
Comments
comments