• The Kennett Area Senior Center hosts a presentation on "Nutrition and My Vision" on Tuesday, Feb. 24 from 12:30 to 1:30 p.m.  Learn what role nutrition plays in maintaining good vision how to keep your eyes functioning well. For more information, call the center at 610-444-4819.
• On Wednesday, Feb. 25, at 2 p.m., Amanda C. Burdan, associate curator at the Brandywine River Museum of Art, will discuss Jamie Wyeth's early works, from paintings such as Portrait of Shorty to his time in New York, including his work at Andy Warhol's famous Factory. The event is included with museum admission and free for members.
• The Chadds Ford Gallery opens a new exhibit Friday, Feb. 27, featuring the works of Steven White. White is a self-taught artist who paints primarily traditional landscapes in oil or transparent watercolor. His work has been chosen for inclusion in several artist magazines and events, including "Qualities of Light" by North Light Books. He was a finalist in the Artist's Magazine annual competition, and won a Silver Medal at The Adirondack's National Exhibition of American Watercolors. The exhibit runs through March 15.
• Upland Country Day School is hosting an exhibition game for the Delaware Sled Snipers on Saturday, Feb. 28 from 2 to 4 p.m. at Upland's John M. Cleveland Rink. The Sled Snipers are the first sled hockey team in the area. Sled hockey allows players with physical disabilities to play hockey. Admission is free and open to the public. After the exhibition game, the public is invited to try out the sleds on the rink.
• The Kennett Symphony of Chester County, under the direction of Music Director Michael Hall, will present Music, Stories in Sound, at its annual Children's Concerts at 2 p.m. on Sunday, March 1, at the International Cultural Center on the campus of Lincoln University and again on Sunday, March 8, also at 2 p.m., at Emilie K. Asplundh Hall, Phillips Memorial Building, on the campus of West Chester University. This year's concert is an interactive concert where the audience will create a story based on the music they are hearing. Before each performance, join Music Director Michael Hall for a pre-concert conducting class to see what it is like to conduct. All tickets are $5 per person and seating is reserved. For complete information visit www.kennettsymphony.org or call the Kennett Symphony at 610 444 6363.
• The Patton Theater Co. of Charles F. Patton Middle School presents "Annie, Jr." on March 5, 6 and 7. Show times for March 5 and 6 are 7 p.m., 2 and 7 p.m. on March 7. Tickets are $5 and may be purchased online at www.showtix4u.com and at cfpms.ucfsd.org. A limited number of tickets will be available at the door. On Feb. 28, from 1-3 p.m. there will be a free Community Preview Day.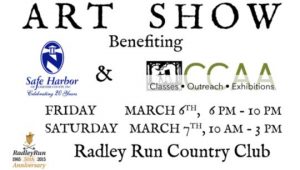 • Radley Run Country Club is hosting an art show to benefit Safe Harbor and the Chester County Art Association on Friday, March 6, from 6-10 p.m. There will be a reception with music, hors
d'oeuvres, cash bar and fantastic art. Visit the gallery again on Saturday, March 7, 10 a.m. to 3 p.m. to experience a quieter viewing environment. Simply give Radley Run a call at 610-793-1660 to make your reservation. A press release said 30 percent of artwork sales and 100 percent of the silent auction sales benefit Safe Harbor and the Chester County Art Association. The Silent Auction will close at 2 p.m. on Saturday.
• The Penn State Chester County Master Gardeners is offering a workshop on herbs on Saturday, March 8, from 3-4:30 p.m. at the East Bradford Township building. In the workshop you will design your garden, learn how to grow and harvest your plants. To get you started right away, you will sow seeds of several common culinary herbs that can easily be grown in your garden or a container. The cost is $10. Registration is advised. To register, send an email with your name to: exa108@psu.edu with the subject line Herbs Spring Workshop.

See Contributors Page http://chaddsfordlive.com/writers/
Comments
comments