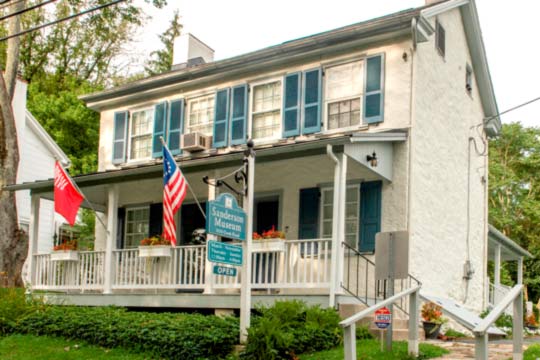 The year is planned out for the Christian C. Sanderson Museum in Chadds Ford Township, and the key word, according to museum President Sue Minarchi, is excitement.
"We're opening on March 1, and we have a really exciting season of events this year," Minarchi said.
On tap for 2015 are two exhibits, two wine and sign days, an afternoon of outdoor music in tribute to Chris Sanderson's Pocopson Valley Boys and three Sanderson Summer Stories for children.
An exhibit on President Abraham Lincoln opens on April 16, two days after the 150th anniversary of the assassination.
"It will focus on his assassination, but there's going to be a lot of other artifacts as well that we're going to have here in the museum," Minarchi said. "Chris memorialized everything so, knowing it was 150 years, we picked that."
Some of the Lincoln-related artifacts Chris Sanderson obtained during the course of his life include a piece of bandage from Lincoln's fatal head wound, a piece of his coffin and a front page of 150-year-old Philadelphia Inquirer with an article on Lincoln's funeral.
While there was some attention paid to Lincoln during a previous Civil War exhibit at the Sanderson, this one exhibit will focal totally on the former president.
The exhibit will be on display until July 31.
The second exhibit is one Minarchi said they've never had before, that being an exhibit of WWI artifacts that Sanderson had collected.
"I'm hoping there are a lot of veterans who would be interested," said Minarchi.
This is a first time for a WWI exhibit at the Sanderson, Minarchi said. It opens Sept. 17.
The wine and sign dates are March 27 and Nov. 6. Minarchi said there would be hors d'oeuvres and wines from local wineries along with art and book signings by local artists and authors.
Last spring the museum hosted an outdoor concert featuring music that Sanderson's former band, The Pocopson Valley Boys, played during Sanderson's time as a fiddler. Minarchi said the museum would do that again this May 17 from 1-3 p.m.
On June 17, from 10 a.m. to noon, the museum will hold the first of three Sanderson Summer Stories. The first is "Li'l Dan, The Drummer Boy, a Civil War Story" by Romare Bearden with a recorded reading by Maya Angelou. Children will have the chance to make a replica of the drum to take home.
There will be two more story days, one in July and one in August, Minarchi said.

Rich Schwartzman has been reporting on events in the greater Chadds Ford area since September 2001 when he became the founding editor of The Chadds Ford Post. In April 2009 he became managing editor of ChaddsFordLive. He is also an award-winning photographer.
Comments
comments