Powerful stories of at-risk pregnant women in four parts of the world will be presented in a documentary that will be shown and discussed at West Chester University on Wednesday, Feb. 25 – a partnership between the Chester County Fund for Women and Girls and the Maternal Child and Health Consortium.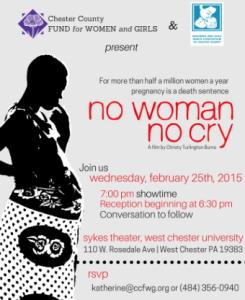 "No Woman, No Cry" shares the compelling stories of women in a remote Maasai tribe in Tanzania, a slum of Bangladesh, a post-abortion care ward in Guatemala and a prenatal clinic in the U.S. A panel will guide an audience discussion following the 7:30 p.m. screening in the Sykes Theater. It will be preceded by a reception with refreshments at 6:30 p.m.
The free event is open to the public. Register at https://www.eventbrite.com/e/no-woman-no-cry-tickets-15376827505. For additional information email katherine@ccfwg.org or call 484-356-0940.
The Chester County Fund for Women and Girls is a grant-making and education foundation dedicated to addressing the needs of women and girls in the county. For more than 18 years, the fund has raised awareness about the critical needs of women and girls and awarded more than $2 million to 60 nonprofit organizations. To learn more, visit www.ccfwg.org.
Since 1991, the Maternal and Child Health Consortium (MCHC) has served low-income pregnant women, new mothers, and their children having little or no access to quality healthcare service. For more information about its mission and services, visit http://www.ccmchc.org/.

See Contributors Page http://chaddsfordlive.com/writers/
Comments
comments