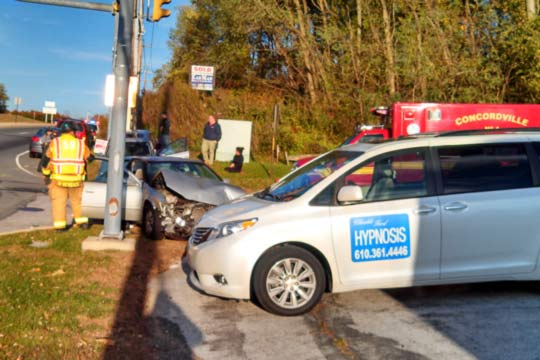 • Police have not yet issued a press release, but there was an accident on Route 1 at Brandywine Drive in Chadds Ford Township about 4:30 p.m. on Oct. 27. A witness said one motorist driving north T-boned another car that was turning left. The witness said the vehicle turning left was a new car being test driven. (See courtesy photo from Thom McGurn above.)
• State police charged two people with harassment following an incident at the AMC Theatre at Painters Crossing in Chadds Ford Township. Police identified the two as Courtisha Chavis and Jamar Evan Caldwell, both 22 and from Chester. A report said the two "engaged in a physical altercation in which the victims did not intend to engage." The incident happened on Oct. 26 at 1:17 a.m.
• Jay Thomas Flint, 27, of New Castle, Del., was arrested for DUI after state police observed him making several traffic violations on Route 202 at State Line Road, a report said. The traffic stop was made at 2:42 a.m. on Oct. 26.
• A 22-year-old from Essington was arrested for DUI on Route 202 at Dilworthtown Road on Oct. 25. Police identified the suspect as James Michael Findle. The arrest was made shortly after midnight.
• Police reported an act of forgery at the Whole Foods in Concord Township. A report said a customer paid for merchandise with a counterfeit $20 bill, and then immediately left the store. Police said the appropriate agencies were notified.
• State police cited one driver in a rear-ender accident on Route 926 at Ulverston Road in Pennsbury Township on Oct. 23. A report said Brett J. Compton, 21, of Chadds Ford, was driving a Ford F-150 behind another vehicle that was waiting to make a left hand turn, but failed to stop and struck the other vehicle from behind. No injuries were reported stemming from the 10:17 a.m. accident.
• Three people reportedly suffered minor injuries in a two-car crash at the intersection of Smithbridge and Concord roads. The driver of one vehicle, Edith Langdon, 82, of Wilmington, was cited for an improper left turn, police said. According to a report, Langdon was driving east on Smithbridge Road. A second car was crossing through the intersection when Langdon turned left, striking the other vehicle. Langdon and her husband were transported to a hospital. The driver of the second car was also reported injured, but there was no transport, according to the police report. The accident happened at 1 p.m. on Oct. 22.
• One person reported a minor injury following an accident in which a box truck rear-ended a school bus on Route 926 at Pocopson Road. A report said the two vehicles proceeded through the light, but the school bus stopped at the railroad tracks per state law. The truck slid into the rear of the bus and its truck driver was cited. The bus driver reportedly said she banged her knee on the driver side door, but refused medical treatment, police said. There were no students on the bus.
• Police arrested 21-year-old Kimberly Bydlon, of West Chester, on retail theft charges. There was no word on what was stolen, but the value was reported to be $60.24. The incident happened 1:45 p.m. on Oct. 22 at the Target in Concord Township.
• One driver was injured and another was cited in a two-vehicle accident on Route 202 at Pyle Road, police said. The accident happened 11:10 a.m. on Oct. 22. The police did not identify the driver who was cited for making an improper left hand turn. According to the report, the unidentified driver was traveling west on Pyle Road toward southbound 202. Another vehicle, heading north on 202 approached Pyle Road when the first driver reportedly pulled out into traffic. The second car hit an embankment and then spun out of control. The driver was taken to Riddle Hospital with minor injuries.
• Nicole Whitney Cassidy, 27, of Wilmington, was arrested for DUI following an Oct. 29 traffic stop on Route 202 at Ridge Road, police said. The stop was made at 2:25 a.m.

See Contributors Page http://chaddsfordlive.com/writers/
Comments
comments