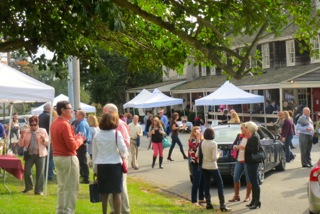 Under brilliant blue skies, more than 1,500 people strolled around the grounds of the historic Dilworthown Inn on Sunday, sampling wine and craft beers, browsing through a selection of artisan vendors, and enjoying the fact that their presence would help fight cancer.
From noon to 4 p.m., the 23rd Annual Dilworthtown Inn Wine Festival attracted a crowd that delighted organizers, who included members of the Brandywine and Greystone Women's Auxiliaries to Chester County Hospital.
Proceeds from the festival will benefit patients of the Cancer Program of Chester County Hospital and Neighborhood Health, which supplements the treatment available through the hospital's Penn Cancer Network with home health, hospice, and other services.
Tom Gavin, director of events and volunteer fundraising for the hospital, said the festival typically draws about 1,500. "We're way over that today," he said as he surveyed the crowd. "I think people enjoy coming out for entertainment that goes to such a worthy cause."
Betty Lou Elcenko of Glen Mills would agree. She and her husband were attending for the second year in a row. "We've known a lot of people affected by cancer," Elcenko said, adding that she noticed an increase in the number of attendees as well as vendors.
"It's always wonderful," said Sandy Macanga of Chester Springs, a longtime attendee. She and her husband, Steve, said they had been coming to the Dilworthtown event for many years. "We have a lot of fun here," she said.
Another group of about a dozen friends said the festival has become an annual get-together. "We look forward to it every year," said Wendy King of West Chester. But this year, they decided to change up the experience by purchasing VIP tickets. "We wanted to make it different," explained Melissa Griffith of West Chester. Dena Sokoll of West Chester said the fact that the proceeds benefit the hospital was added incentive.
The VIP package included gourmet food, reserved seating, and special wines. Those who opted for regular admission had plenty of culinary options available for purchase, and everyone was able to enjoy the performance car display, the expansive silent auction, and the live performance of Mike Czimback and Friends, whose music inspired plenty of dancing.
The beverage offerings were extensive for everyone, ranging from international to local origins. Among the hometown wine purveyors were the Galer Estate Winery, the Chaddsford Winery, Paradocx Vineyards, Grace Winery, and the area's newest entry, Ten Gallon Hat Winery. Area craft beer brewers included Iron Hill Brewery, McKenzie Brew House, Saucony Creek Brewing Company, and Victory Brewing Company.
"This is a wonderful event for a great cause," said Beth Stefanide-Miscichowski as members of her group nodded in agreement.

See Contributors Page http://chaddsfordlive.com/writers/
Comments
comments