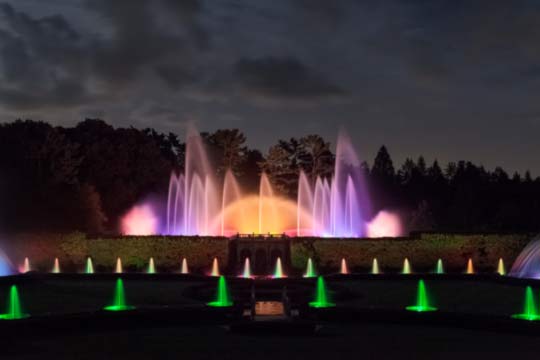 More than 80 years ago, Longwood Gardens' founder Pierre S. du Pont designed an engineering marvel of its time: an elaborate fountain display created with Italian limestone, trees and shrubs from 14 states, 724 lighting units with colored glass filters, 380 fountainheads, and 675,000 gallons of water that could shoot up to 130 feet high.
Since then, the Main Fountain Garden has entranced the more than 1 million people who visit the attraction each year, said Paul B. Redman, Longwood's director. But time and water have taken a toll on the system. When Redman began his tenure eight years ago, he said restoring and updating the display already appeared on the gardens' to-do list.
In mid-October, the gardens' signature centerpiece will cease operating for a 2-and-a-half-year, $90 million undertaking dubbed "New Heights: The Fountain Revitalization Project." Crews will replace the fountain's 83-year-old infrastructure, enhance guests' access to it, and add new elements consistent with du Pont's vision, Redman said.
On Thursday, as Redman led a media tour to detail some of the changes, a group from Kentucky gathered to watch the fountain show. "Wow! That's beautiful," one woman exclaimed as her companions nodded in agreement. What she didn't realize was that the group had traveled to Longwood just in time.
Although the public will temporarily lose the opportunity to view the dazzling display, Longwood plans to use the construction period as an educational opportunity. Signage will brief visitors on both the process and the progress as the work begins, much of which will be underground.
Just as du Pont drew inspiration from the Old World gardens he toured in Europe, the restoration team includes three firms with global reach. Beyer Blinder Belle Architects & Planners, based in New York and Washington, boasts a portfolio that includes the Ellis Island Museum of Immigration and Shanghai Cultural Plaza in China.  West 8 is an urban design and landscape architecture business with offices in the Netherlands and New York, and Fluidity Design Consultants is a Los Angeles-based water feature design and engineering firm with an international practice.
Richard Southwick of Beyer Blinder Belle said the process of designing the new space began two years ago and has represented a creative collaboration among the firms and the Longwood staff.  "Once the fountains get shut down, we really mobilize," he said. He explained that restoring the stone, some of which is stained and eroded, would be a painstaking process involving hand scrubbing. "Our goal is to restore the stone but not make it brand new," he said.
Echoing the kind of detail that characterized du Pont's original design, Clair Agre of West 8 said that the Norway maples that surround the garden would be replaced with a linden tree species that, unlike the maple's heavy canopy, would allow dappled sunlight. She said the team strived to retain du Pont's style, seamlessly integrating it with modern innovations.
Overall, Agre and Southwick said the new design will offer visitors improved access to the fountain area, which will be better connected to other sections of the gardens; more places to sit and relax; more horticultural displays, such as Boston ivy and climbing hydrangeas; and a heightened view with a trellis bridge connecting to the Fountain Terrace, where guests can survey the surrounding gardens.
Other planned changes include total replacement of the fountain's electric and plumbing infrastructure; new water choreography that will utilize jets that project water 175 feet into the air; replacement of the fountain lighting system with energy-efficient LED bulbs that will increase the range of colors; the re-opening of the south wall, which has been closed to the public for 20 years and contains 20 wall-mounted fountains; and a renovated Pump House lobby that will showcase the machinery that powered the Main Fountain Garden from 1931 to 2014.
Redman said he hopes the results will serve visitors 100 years beyond the reopening in the spring of 2017.  "New Heights is a part of our long-term commitment to delivering a world-class experience for all our guests," he said.

See Contributors Page http://chaddsfordlive.com/writers/
Comments
comments