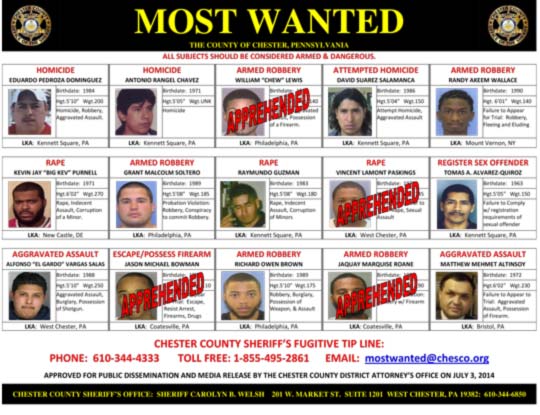 Another one of Chester County's most wanted fugitives is now in custody. Jason Michael Bowman was apprehended in Mercer County, New Jersey.
According to Chester County Sheriff Carolyn Bunny Welsh, "A tip was received in Chester County indicating a specific address in New Jersey where Bowman could be located. Chester County Sheriff's Office and Pennsylvania State Police contacted authorities in New Jersey. The Trenton Division of U.S. Marshals Service and assisting agencies took immediate action, resulting in Bowman's arrest."
Welsh credits the Pennsylvania State Police, U.S. Marshals Service, Mercer County Sheriff's Office, Mercer County Prosecutor's Office, Burlington County Sheriff's Office, New Jersey Department of Corrections, Trenton Police Department, and the Evesham Police Department K-9 Unit for their efforts in apprehending Bowman. She also thanked the civilians who provided information.
"Our thanks to the citizens who supplied information and assisted law enforcement in locating Mr. Bowman. This is an outstanding example of members of the public and multiple law enforcement jurisdictions working together for a safe and successful outcome."
This was the fourth arrest since the most wanted list was made public. Others from the list who have been captured are William "Chew" Lewis, Vincent Lamont Paskings and Jaquay Marquise Roane.

See Contributors Page https://chaddsfordlive.com/writers/
Comments
comments