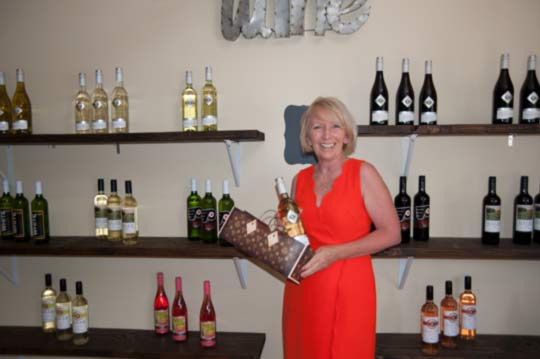 There is a place where yoga and wine come together, almost literally, in the Barn Shoppes of Chadds Ford.
On the second floor of Transcend Yoga is the new wine boutique, brandyWINES.
It's the idea of Dorothy O'Connell, a 30-plus-year federal employee who loves the Chadds Ford area and wanted to sell wine.
The little boutique opened just a week ago, on July 18, and the grand opening is set for Aug. 7.
O'Connell is starting small. So far she's carrying wines from Chadds Ford Winery and Galer Estates. A third winery, Patone Cellars from Landenberg, is slated to join the others in the near future. brandyWINES will sell wine at the same prices same as the wineries, she said.
The idea for the wine store was something that grew legs for her.
"It was just a concept for me," O'Connell said. "Being in the area and knowing there are some great wineries that have been here for a while, I didn't even realize that you could do this. I passed the idea through Chaddsford Winery and they said, 'Let's run with it.'"
But she has her eye on the future. She's considering adding some clothing — some shirts and hats — and doing customized wine bottles and painted wine glasses for weddings.
She already has one shirt for sale. It's a basic A-line undershirt with the words: "I do yoga to relax. Just joking. I drink wine in yoga pants."
The shop may also be selling some specialty cheeses in the future.
"Right now, we just want to see the foot traffic for the first couple of months before we expand," she said.
O'Connell plans to team up with other business in the Barn Shoppes. She's been in touch with the Brandywine River Hotel to do banquets and collaborate on specials of a room and a bottle of wine and is also looking to team up with Green Meadow Florists for gift baskets and to do special events with The Chadds Ford Gallery.
"We [in the Barn Shoppes] are all intermingling here at some point."
The shop is open from noon to 9 p.m., Tuesday through Sunday; closed on Mondays.
O'Connell said she understands business because she's worked in logistics with the US Department of Defense for more than 30 years.
"I know business, supply and demand and inventory," she said.
The grand opening is slated for 5:30 to 7:30 p.m. on Aug. 7. Galer Estates and Chaddsford Winery will have representatives on site that evening to discuss wines and pairings. O'Connell said she hopes the area restaurants will also get involved by providing some appetizers and desserts.
Photo: Dorothy O'Connell in her new shop, brandyWINES, above Transcend Yoga in the Barn Shoppes of Chadds Ford. The wine boutique is open noon to 9 p.m., Tuesday through Sunday.

Rich Schwartzman has been reporting on events in the greater Chadds Ford area since September 2001 when he became the founding editor of The Chadds Ford Post. In April 2009 he became managing editor of ChaddsFordLive. He is also an award-winning photographer.
Comments
comments